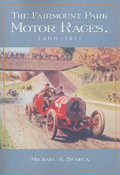 Order this book today

HOME

About Us

Articles

Book Reviews

Records/Stats

Links


PHOTO CREDITS
Left: The Locomobile Type 1906, "Old 16", driven by George Robertson on its way to winning the 1908 Vanderbilt Cup on Long Island.
Center: Action during the 1916 Vanderbilt Cup event at Santa Monica with William Bolden (#12) leading Omar Toft.
Tracks History Links
ROAD CIRCUITS

| Title | Comments |
| --- | --- |
| Augusta International Raceway | "It's a driver's course and God help the airport-jaded, weekend warrior who gets loose at AIS," Jim Hall said of this long gone Georgia 3-mile track. |
| Greenwood Roadway | Opened for only three years (1963-66), it was a 3.0-mile course in Indianola, Iowa. It once hosted a USRRC event. |
| Lake Garnett Raceway | Briefly operated in the early 1960s, this 2.8-mile circuit was located in Garnett, Kansas. |
| Lynndale Farms | Dedicated to the fun-to-drive Lynndale Farms Raceway road racing course situated about 20 miles west of Milwaukee, Wisconsin. It opened in 1963 and closed in 1967. |
| Meadowdale | Dedicated to the old Meadowdale International Raceway, a 3.27-mile track near Chicago that existed from 1958-68. Includes a large collection of photos. |
| Mid America Raceway | Mid America Raceway whose 2.8-mile road course opened in 1965 and closed in 1984 is located west of Wentzville, MO. Photo galleries of race weekends from those years. |
| Monaco | A motorsport library containing the information on the legendary Monaco Grand Prix from 1929 to today. |
| Monzasport | In Italian, this site contains photos, videos, and stories from throughout Monza's history. |
| Ospedaletti | A blog dedicated to the historic Circuit of Ospedaletti located in San Remo, Italy. Mostly in Italian. |
| Riverside | The famed Southern California track that was the definition of western road racing. |
| Solitude | The Solitude Revival meets to maintain the memory of the race tracks that existed in various configurations during 1903-1965 near Stuttgart, Germany. In German. |
| Spa | A photographic history of Spa by DdR Motorsport. |
| Virginia International Raceway | They have resurrected this road racing circuit, considered one of the greatest driver's tracks in North America. Here is the history and photos from VIR's first life, 1957-74. |
| Watkins Glen International | Read the history of this fabled track. |
| Watkins Glen Memories | A photo site on past Watkins Glen events, including the infamous Bog. |
| The Watkins Glen Bog | Do we really need to describe this one? |
| Wilmot Hills | Dedicated to Wilmot Hills Road Racing Course, a sports car racing track set on the grounds of what is now the Wilmot Mountain ski area, just north of the Illinois-Wisconsin border in Wilmot, Wisconsin, active from 1953 to 1967. |
| Wisconsin State Fair Park | Everybody knows the Milwaukee Mile at the Wisconsin State Fair Park, but the facility also had an infield road course that ran races from 1954 through 1984. |
SPEEDWAYS

| Title | Comments |
| --- | --- |
| Altoona | A page devoted to the Altoona Speedway board track in Tipton, Pennsylvania which was in operation from 1923 through 1929. |
| Brooklands | The Brooklands Society web page. A collection of historic photographs and articles from their archives on one of the most important tracks in racing history. |
| Des Moines | Devoted to the Des Moines Speedway board track which was in operation from 1915 through 1916. The site contains many rare photos and over 170 newspaper articles of the day. |
| Meridian Speedway | Located in Wichita, Kansas, and built on the site of the former Speedway Park (see below) this 1½-mile dirt squared circle ran from 1921-23. |
| Milwaukee Mile | The official Milwaukee Mile archive with history, race winners, and record book. |
| Minnesota | Did you know that the Twin Cities once had a superspeedway? The airport now sits on that parcel of land. Don Stauffer gives the details of early Minnesota racing history. |
| Speedway Park | Located in Wichita, Kansas (and briefly known as Wichita Speedway), this 1½-mile dirt circle (yes, a complete circle, no straights) track was active just one year -- 1915. |
| Trenton Speedway | Trenton Speedway with the funny kidney shaped oval and the dogleg. Historical photos at this site. |
BULLRINGS

| Title | Comments |
| --- | --- |
| Arkansas City Speedway | That would be Arkansas City, Kansas, or sometimes known as West Madison Avenue Speedway. This half mile dirt oval didn't last very long, opening in 1929 and then a few years later became a victim of the Great Depression. |
| Bo Stearns' Track | This half mile dirt track built by Bo Stearns north of Wichita, Kansas operated in the 1930s was one of the first to use floodlights for night racing. |
| Cowley County Fairgrounds | History, results, and photos depicting the history of this dirt track located in Winfield, Kansas which started out as a horse track in 1872. |
| Dayton Speedway | Keeping alive the memory of a legendary speedway a blindingly fast high banked oval (along with Salem and Winchester in Indiana) in Ohio. |
| Islip Speedway | The history of the Long Island track (1947-1984) made famous by ABC's Wide World of Sports and the "World Championship of Figure 8 Racing." |
| Kansas State Fairgrounds | Big Cars of the 1930s at the half-mile dirt race track of the Kansas State Fairgrounds, Hutchinson, Kansas. Fantastic photos. |
| Knoxville Raceway | The history of this great race track, home of the Knoxville Nationals. Includes list of champions and other stats. |
| Legion Ascot Speedway | The five-eighths mile Los Angeles track opened in 1924 and met its demise after the main grandstand burned in 1936. |
| Midwest Speedway | Short track in Lincoln Nebraska from 1963-1987. |
| New Bremen Speedway | Photos of what is left of this defunct Ohio track. |
| Oakley | Three dirt tracks in Oakley, Kansas that ran from 1926 through 1963. They are one-milers Widdifield Farm Racetrack and American Legion and the half-miler Sportsman Park. |
| Orange County Fair (Victory) Speedway | Located in Middletown, NY, this 5/8-mile hard clay track is one of the oldest racing surfaces in the world. Built in 1857 for horses and used from 1919 by cars. |
| Playland Speedway | Originally a dog racing track, this track located in Council Bluffs, Iowa started hosting car races on it's dirt in 1947. |
| Reading Fairgrounds | The Reading Fairgrounds Raching Historical Society. |
| 77 Speedway | A small flat dirt oval located about one mile south of the Arkansas River on the south edge of Arkansas City, Kansas. The speedway opened early in 1955 and operated for five seasons racing jalopies and Micro midgets. Photos are from Gary Virden. |
| Tri-State Fairgrounds | Dedicated to the race that took place at the Burlington, Iowa dirt track -- the first 100-mile AAA sanctioned event on a half-mile track. |
| West Side Racetrack | This small dirt track took on many variations over many years, starting in 1916 and ending in 1942. |
Do you have an historic auto racing web site
that you feel belongs on this list?
Then please the URL, and we'll check it out.
If we agree, we'll put it up here.