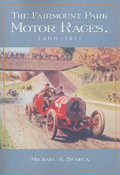 Order this book today

HOME

About Us

Articles

Book Reviews

Records/Stats

Links


PHOTO CREDITS
Left: The Locomobile Type 1906, "Old 16", driven by George Robertson on its way to winning the 1908 Vanderbilt Cup on Long Island.
Center: Action during the 1916 Vanderbilt Cup event at Santa Monica with William Bolden (#12) leading Omar Toft.
Sports Car Racing History Links
WORLDWIDE

| Title | Comments |
| --- | --- |
| The World of Sports Prototypes Racing | Nearly every result from all post-war sports car races in the world can be found here. Select the championship that interests you to find all available results year by year. Also, photo archives and listings of sports prototypes by chassis numbers. |
| Racing Sports Cars | They have a heck of an ambition -- to collect a single photo of every car in each race. Enjoy keeping track on how well they are fulfilling that intention. |
UNITED STATES

| Title | Comments |
| --- | --- |
| Mike Stucker's Can-Am Series | Mike Stucker has a wonderful six part series on the history of the Can-Am. He also has a photo gallery of the 1970-72 Watkins Glen events. |
| Can-Am at Laguna Seca | John Krill has some super photo galleries of the Can-Am when they visited Laguna Seca in 1969, 1970, and 1972. |
| 1950's US Road Races | Personal accounts and photos of that era. |
| F Sheff at Play | Frank Sheffield presents his personal experiences in various sports car outings and events with quite a few historic southern california sports car racing pictures and other unique offerings from the second half of the 20th Century. |
| BARC Boys | Photos and stories from East Coast sports car racing in the 50s and 60s. |
| Tam's Old Race Car Site | Tam McPartland shares his childhood photos of the California sports car racing scene of 1961-62. |
| Brock Racing Enterprises | The history of this SCCA club racing team founded by Pete Brock in 1966 and their Datsun racing cars including drivers John McComb and John Morton. |
EUROPE

| Title | Comments |
| --- | --- |
| 24 Heures Du Mans | The official site offers a complete searchable database of all the races by year, make, car type, driver, team, car number, etc. |
| Le Mans History | Provides results, circuit layouts, and feature articles illustrated with an extensive photo collection. |
| Le Mans Register | Results for every year of the 24 Hour race. Also, year by year results for Targa Florio. |
| 1955 Le Mans Disaster | The following appeared in the June 27th 1955 issue of LIFE Magazine explaining the worst racing crash in history. Warning -- some photos are disturbing. |
| Sport-Protos, GT, NASCAR | A hodgepodge of information mainly centered around Le Mans including NASCAR entries at the French classic. In English (usually) and French. |
| Targa Florio | Information, results, and photos of the historical street race. In Italian, but has an English version. |
| Mille Miglia Historical Database | A database of all the cars and drivers who have competed in this great 1,000 mile contest. |
| Chevron: A Brief History | David Gordon, author of the book Chevron: The Derek Bennett Story, has his own site with excerpts from the book and other info. |
| Jaguar E-Type Racing History | While restoring a Jaguar E-Type Lightweight, Michael Frank also provides the history of these cars and their racing successes in Europe and beyond. |
| Lotus 30/40 Racing History | Dedicated to preserving the history of the Lotus 30 and 40 sports racing cars with the primary focus on the Pinks Stamps Special Lotus 30/40. |
Do you have an historic auto racing web site
that you feel belongs on this list?
Then please the URL, and we'll check it out.
If we agree, we'll put it up here.