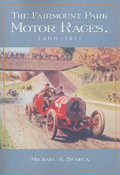 Order this book today

HOME

About Us

Articles

Book Reviews

Records/Stats

Links


PHOTO CREDITS
Left: The Locomobile Type 1906, "Old 16", driven by George Robertson on its way to winning the 1908 Vanderbilt Cup on Long Island.
Center: Action during the 1916 Vanderbilt Cup event at Santa Monica with William Bolden (#12) leading Omar Toft.
Resources History Links
RESEARCH

| Title | Comments |
| --- | --- |
| International Motor Racing Research Center | The new International Motor Racing Research Center at Watkins Glen. A prime source of historical documents, racing diaries, and written oral histories. |
| Detroit Public Library National Automotive History Collection | Located in the Detroit Public Library, the National Automotive History Collection (NAHC) is regarded as the nation's premier public automotive archive. The NAHC documents the history and development of the automobile and other forms of motorized, wheeled, and land transportation in the United States and abroad. |
| Motor Racing Archive | A research and archive facility located in Gravesend, Kent, England. Devoted to the history of the British Racing & Sports Car Clubs and that of the Octagon circuits. However, they have material on all aspects of racing as they seek to build a comprehensive history of the sport. |
| The GEL Motorsport Information Page | All sorts of lists and rankings for Formula One, history of Le Mans, and results. |
| The History of Motorsport Before World War I | An astounding collection of the history, results, venues, and bibliography from around the world of this all important period of auto racing history. |
| Racing Database | Database of results for all sorts of formula (F1, F2, F3, F3000, Champ Car, Atlantic, etc.), sports cars (FIA, Can-Am, ALMS, etc.), Touring, drivers, and circuits. |
| Motorsport Memorial | The objective of this website is to honor the memory of all those that paid motorsportís saddest price -- by remembering their histories, reviewing their careers, celebrating their victories, cherishing their lives. |
| Appalachian State University Library Stock Car Racing Collection | Preserving racing history for future generations by building a comprehensive repository of stock car racing materials. They welcome the public and assist them in their research. |
| LA Racing | Harold Osmer's site dedicated to his books on various topics of Southern California auto racing history. |
| Arizona Racing History | The history of racing in the Sunshine State going back to the 1908 Los Angeles to Phoenix Road Race through Phoenix International Raceway and Firebird Raceway. |
| Auto Racing Analysis | A service that sells information on auto racing facts and figures. Will also do customized searches. |
| Motor Racing Retro | An archive of results and photos for nearly all major facets of the sport both in the US and Europe. |
| The Programme Covers Project | Here's an interesting project -- an attempt to collect and share images of as many racing program covers they can find. Side projects include entry lists and hydroplane covers. |
| American Memory | Historic photos pertaining to American History. If you search on the right keywords, you will find some fascinating old racing photos. |
MUSEUMS

| Title | Comments |
| --- | --- |
| Worldwide Automotive Museums | A complete listing of automotive museums around the world, past and present, by country. |
| The Himes Museum of Motor Racing Nostalgia | Marty Himes started keeping everything. And we mean everything. It eventually outgrew his house into this museum. |
| Indianapolis Motor Speedway Museum | The official site for the museum located between Turns 1 and 2 at the Indianapolis Motor Speedway. |
| Brooklands Museum | The birthplace of motorsport and aviation, located in Surrey, England. |
| Henry Ford Museum & Greenfield Village | A unique place whether you love cars or not. Offers a fascinating chronicle of American ingenuity, innovation and imagination, depicting the ever changing worlds of transportation, manufacturing, home life, entertainment and technology. Contains some of the most prized race cars in the world. |
| Eastern Museum of Motor Racing | Started by a group of enthusiasts who wanted to preserve the early days of American motor racing. Houses a large collection of vintage race cars, a gift shop, racing artifacts, and a research library of rare books, documents, and photos. Located near York Springs, PA. |
| Eastern Auto Racing Historical Society | Located in Orefield, Pennsylvania. Their showroom is available during special open houses. They produce an excellen online newsletter. |
| Donnington Grand Prix Collection | The world's largest collection of grand prix racing cars. |
| Targa Florio Museum | Located in Sicily, it relives the great road race. Also available in English. |
| Petersen Automotive Museum | Located in Los Angeles, one of the top auto museums in the country contains racing exhibits. |
| San Diego Auto Museum | They have periodic special racing exhibits. |
| Towe Auto Museum | Located in Sacremento, California, contains over 170 classic cars, race cars, muscle cars, hot rods and early models. |
Do you have an historic auto racing web site
that you feel belongs on this list?
Then please the URL, and we'll check it out.
If we agree, we'll put it up here.