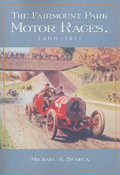 Order this book today

HOME

About Us

Articles

Book Reviews

Records/Stats

Links


PHOTO CREDITS
Left: The Locomobile Type 1906, "Old 16", driven by George Robertson on its way to winning the 1908 Vanderbilt Cup on Long Island.
Center: Action during the 1916 Vanderbilt Cup event at Santa Monica with William Bolden (#12) leading Omar Toft.
Grand Prix/F1 History Links
GRAND PRIX RACING

| Title | Comments |
| --- | --- |
| Grand Prix History | "Grand Prix History through the lives of its greatest drivers, places and events." An excellent site with wonderful write-ups. |
| F1 GP Results and History | A lot of the information here is repeated, but they do something unique -- recreate a fictional World Championship Standings for the years before 1950, all the way back to 1894. |
| The Golden Era of Grand Prix Racing | Specializes in the years 1934-40 with race by race accounts and full results for over 215 races. Also has list of Grand Prix and major race winners from 1895-1949, over 680 races. |
| The Bugatti Page | Devoted to the most successful race cars in history. |
MODERN ERA F1 RACING

| Title | Comments |
| --- | --- |
| Formula One Results (FORIX) | The most comprehensive compilation of all the World Driving Championship results from 1950 to the present. You can use a multitude of search and indexing techniques. Available in many languages. Now a paid subscription site. |
| ChicaneF1 | All the details and statistics about drivers, teams, engine suppliers, tyre manufacturers, lubricant manufacturers, race entrants and car numbers that you could ever hope for since 1950. |
| IntoF1 | Your source for Formula 1 racing, showing F1 results, Driver history, Grand Prix and much more. |
| Formula One Database | All race results, cars, and drivers for the World Championship era including fantastic photo galleries of each decade. |
| Grand Prix Encyclopedia | Just as the name implies. An encyclopedia of races, drivers, constructors, circuits, people, sponsors, engines, fuel companies, and tires for the World Championship era. |
| Formula One Info | No news, no rumors, only statistics is how they bill themselves. Includes nice photo galleries. |
| BRM Web Site | History of one of the most famous F1 manufacturers with a virtual Who's Who of racers who drive them. |
Do you have an historic auto racing web site
that you feel belongs on this list?
Then please the URL, and we'll check it out.
If we agree, we'll put it up here.