Mosport Coverage:
Day Three, Part Two
Summerton Dominates Atlantic Race, Americans Close Gap
Bowmanville, Ontario, Canada, August 30 — Jonathan Summerton (3rd in the American Driver Ranking) completely dominated the Cooper Tires Presents Atlantic Championship Powered by Mazda race. No one was able to touch the young American, rumored to be the future USF1 driver, who pulled out a huge lead, and then survived a green and white one-lap restart shootout.
"All weekend we've been quick," Summerton said. "I'm just really excited. Everything that we did today went down really good."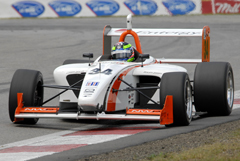 <!p class='regcaption'>Nobody could touch Jonathan Summerton en route to his second Atlantic win in three races.<!/P>
Summerton got off to a strong standing start, immediately opening up a gap to Frederic Vervisch. Vervisch got by Simona De Silvestro when the Swiss driver got off the line slowly. It was evident from the start that De Silvestro, the points leader, was back to struggling on this fast, tricky circuit.
John Edwards (ranked 2nd) immediately started closing in on De Silvestro. He finally caught De Silvestro, and after four laps of hounding her, finally got by for third. Meanwhile, up front, Summerton was simply checking out.
It took only two more laps for Edwards to get around Vervisch for second place. However, despite how quick Edwards was, he still had nothing for his teammate. Summerton's lead extended to over four seconds at its peak. Edwards was at least able to pull away from those behind him.
Then on the 28th lap of this timed race, the points race changed suddenly. De Silvestro, who at this point fell back to fifth with Markus Niemala setting his sites on her, dropped two wheels off at the exit of the super fast, super difficult Turn 2, immediately spelling doom. Her car shot off the track, impacting the tire wall hard.
She got out okay, but with that one mistake, her large points essentially disappeared.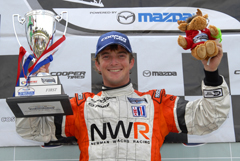 <!p class='regcaption'>Jonathan Summerton hams it up on the podium with a stuffed Canadian moose.<!/P>
After the clean up, there was time for just one green flag lap, but Summerton never was challenged, winning by 1.122 seconds, a margin he created in just 2.459-miles.
"I would have gone for it," Edwards said of the restart. "But I wasn't going to force it in case I got passed myself."
"Simona [De Silvestro] had a bit of bad luck, and I think it really helped us in the championship this weekend," Summerton said. "Hopefully, this will continue through the next two races. I know we can do it."
De Silvestro now leads Edwards by eight points who is four points ahead of Summerton. The championship has two more races left, and either American is still very capable of catching De Silvestro. If Summerton continues with the type of speed displayed at Mosport, nobody will be catching this future star.

Photos by
Copyright &copy 2009 by Russell Jaslow and American Driver Ranking. All Rights Reserved.