Colors
Why isn't this site adorned with red, white and blue? Why are only blue and white colors used? It's because we are paying homage to the original international racing colors assigned to the United States of America by the FIA. Before sponsorship took over the design of race car liveries, international auto racing competitors in grand prix racing, sports car racing, and touring car racing typically painted their cars in colors reflecting the national origin of the car or driver. It is believed this practice had its origin from the Gordon Bennett Cup, held in 1900-1905.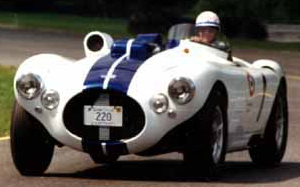 The United States eventually acquired their national colors from the Briggs Cunningham entries in sports car racing. His cars appeared in 1951 as white with blue parallel stripes running down the center of the car. It is believed this was the first use of racing stripes, also referred to as Le Mans stripes or go-faster stripes. Thus, the U.S. colors for international racing became white body with blue stripes and blue undercarriage.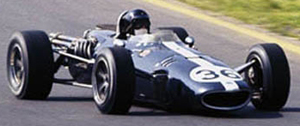 Dan Gurney flipped these colors with his All American Racers Eagle race cars, made most famous by his win in the 1967 Belgium Grand Prix at Spa. This win remains the only All American driver-chassis combination in Formula 1 history. It was the second time the feat was performed in Grand Prix racing -- Jimmy Murphy in a Duesenberg taking the win in the 1921 French GP. Gurney painted his car blue with white stripes. This paint scheme was also used by some of the GT40 entries at Le Mans in Ford's highly touted program in the 60s, where Gurney initiated the tradition of spraying champagne from victory lane in 1967. Thus, an unofficial U.S. color scheme for international racing was blue body with white stripes and white undercarriage.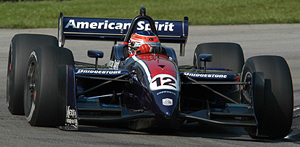 Therefore, the American Driver Ranking website uses blue and white as our predominate color scheme. Though sponsorship has taken over the look of cars today (the American Spirit Racing Team was a rare exception, competing in CART in 2003 and taking on a Gurney-like look with the addition of a splash of red on top), blue and white will always be linked with American cars and drivers in international racing thanks to greats like Cunningham and Gurney. Drivers that today's young American hopefuls strive to emulate.
Copyright &copy 2009-2017 by Russell Jaslow and American Driver Ranking. All Rights Reserved.