Mosport Coverage:
Day Two, Part Two
Daly Spins Away Star Mazda Lead
Bowmanville, Ontario, Canada, August 29 — Conor Daly (7th in the American Driver Ranking) started second and finished second in the Star Mazda Championship Presented by Goodyear, but that hardly tells the story. There may not have been more eventful race for someone who finished in the same spot as they started.
It all started with qualifying which was quite eventful. Damp, foggy, cool weather greeted the drivers in the morning causing many offs including two big hits against the tire wall. When it was all over, Richard Kent was on the pole with Daly second.
The 17-car field stormed off from the standing start, and the cars went into Turn 1 clumped together. Kent came out with the lead followed by Daly, Alex Ardoin, Adam Christodoulou, Peter Dempsey, and Joel Miller (ranked 6th).
The front two started pulling away from the field with Daly hounding Kent. Finally, Daly found his opening a few laps in.
"I knew on new tires the car was going to be really good in the early laps," Daly said. "Richard [Kent] made a mistake in Turn 5."
"I got a flying start," Kent said. "I made a mistake in 5B, hit the curb, that allowed Conor to pass me in Turn 8."
Daly dove underneath to take the lead. Once in front, Daly slowly expanded the margin over the next few laps. Then, disaster struck.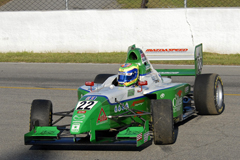 <!p class='regcaption'>Conor Daly spinning away the lead in Turn 9.<!/P>
"We caught some traffic," Kent said. "He went one way; I went the other way. And then he went off."
"Richard had a double draft," Daly said. "And got alongside in Turn 8. I tried to stay around the outside. I passed people before on the outside in eight. Just got a little bit wide, and couldn't hold it."
The car went around, and Kent shot into the lead. Daly was able to quickly resume, falling to third place behind Christodoulou. Christodoulou got into that position after Ardoin went off between turns one and two, allowing the pack behind him to get by. The incident spread the pack out, so Christodoulou was the only driver to get by Daly.
Daly put his head down and slowly reeled in Christodoulou eventually catching him. Getting by was another story, and it took Daly quite some time to move into second place. By the time he did, despite running faster times than Kent, it was too little, too late to make much of dent in the lead.
<!p class='regcaption'>Alex Ardoin could not take advantage of his third starting spot, finishing 12th.<!/P>
Ardoin recovered himself, but by then he was mired in a mid-pack battle. He finished eighth. Miller started seventh, pitted midway through the race after contact, and wound up 12th on the lead lap. Rusty Mitchell started sixth but went backwards in the race for an 11th place finish.
The series resumes at Road Atlanta before finishing the year at Laguna Seca.

Photos by
Copyright &copy 2009 by Russell Jaslow and American Driver Ranking. All Rights Reserved.