Mosport Coverage:
Day One
Americans Start The Weekend Strong
Bowmanville, Ontario, Canada, August 28 — The only qualifying to take place on the first day at Mosport occurred in the Formula BMW Americas series. Two in fact, one for each respective race. Gabby Chaves (5th in the American Driver Ranking), the dual Columbian, American citizen, took second in each of them.
Meanwhile, Americans in the two other junior formula series made an early statement by topping their respective practice sessions.
Bridesmaid To A "Gian." Gabby Chaves already clinched the Formula BMW Americas title before coming into Mosport. He would like nothing less than putting the icing on the championship cake by not only going out a winner, but taking the last two wins in the final two Formula BMW Americas races. With BMW canceling the American version of the series after this season, there can be only one last winner.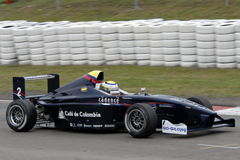 <!p class='regcaption'>Gabby Chaves qualified second for both of the Formula BMW Americas races.<!/P>
However, for Chaves to do so, he will have to do it by starting on the outside of the front row for both races. A different pole winner, but both with a first name starting with "Gian," got the better of Chaves in each qualifying session.
In the morning session which set the grid for Round 13 to be run on Saturday, Gianmarco Raimondo from St. Catharines, Ontario, about two and a half hours from the track, turned in a 1:21.638. Chaves just missed, registering a 1:21.816.
The grid for Sunday's race, Round 14, was determined in an afternoon session which saw cloudy skies and cooler temperatures, and thus slower times. This time Giancarlo Vilarinho notched the top time with a 1:21.916. Chaves started out slowly, pitted for awhile to make some changes, and then roared up the charts, finally managing a 1:21.978, again for a second starting spot.
Michael Lewis had a good day as he will be starting both races right behind Chaves on the outside of the second row. His first qualifying time was 1:22.103 while he turned in a 1:22.321 lap in the second session.
The only other American to make it up to Mosport, Barrett Mertins, had a miserable day. He crashed in the morning practice session. His crew got his car back together, but Mertins was unable to get much speed out of it, qualifying last for each race.
Early "Edge." No race is won in practice, least of all practice sessions that don't even count for qualifying. However, with the fierce battle taking place in the Cooper Tires Presents Atlantic Championship Powered by Mazda, any type of psychological advantage will be gladly accepted.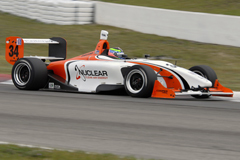 <!p class='regcaption'>Jonathan Summerton looked good in practice running faster than his fellow championship contenders.<!/P>
As far as Americans John Edwards (ranked 2nd) and Jonathan Summerton (ranked 3rd) are concerned, they are only keeping their eyes on Simona De Silvestro. Frederic Vervisch may have gotten the fastest time of the day, but Edwards and Summerton got the early psychological edge by being quicker than De Silvestro.
Vervisch's time came in the morning session when the sun was out and the track was warmer with a 1:10.460. In that session, Summerton got the second quickest time at 1:10.841 followed by Edwards at 1:10.943. De Silvestro was down in fifth on the timing chart at 1:10.969.
In the afternoon's cooler and slower session, Summerton was on top of the timing chart at 1:10.571 once again followed by his teammate, Edwards, this time by a scant .008 seconds, with a 1:10.579 lap. And, once again, De Silvestro was down in fifth at 1:11.174. Interestingly, the two Americans were the only top drivers who were able to go faster in the "slower" session.
"Coming into the last three races, being behind Simona [De Silvestro] like we are, the goal is to always be ahead of her and we were," Edwards said.
"It's only testing," Summerton said.
True, but the two Newman Wachs Racing drivers are probably smiling a bit knowing that De Silvestro hasn't matched their speed with qualifying coming up on Saturday.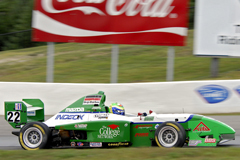 <!p class='regcaption'>Conor Daly turned the fastest time of the day in Star Mazda.<!/P>
Poised For Saturday. Like all the other series today at Mosport, the Star Mazda Championship Presented by Goodyear also saw their fastest laps in the warmer, sunnier morning session. Thus, when the day was done after two practice sessions, American Conor Daly (ranked 7th) wound up with the fastest lap at 1:14.914 turned in before noon.
Rusty Mitchell turned in the fifth fastest time overall, surprisingly occuring in the afternoon session, at 1:15.598 followed by Joel Miller (ranked 6th) at 1:15.678. Alex Ardoin had to settle for a middle of the pack time in this 18-car field.
Star Mazda has one money day this weekend as they qualify and race on Saturday.

Photos by
Copyright &copy 2009 by Russell Jaslow and American Driver Ranking. All Rights Reserved.