Book Review
by Russell Jaslow

The Toleman Story - Last Romantics in Formula 1

by Christopher Hilton
Veloce Publishing
ISBN: 978-1-84584-217-8. List Price: $69.95.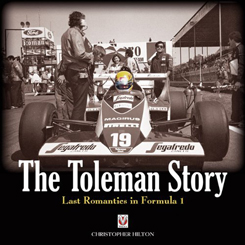 The 2010 Formula 1 season has seen a number of new teams enter the sport. One did not even make it to the grid. Others are struggling, both financially and/or technically. Some are seeing modicums of success.
It has been a while since this many teams have made their debut at once. It was not too long ago when many new teams came and went with a high level of frequency. Some, extremely briefly (though long compared to the stillborn efforts of USF1). Others, stuck around for a few years. Some, like Minardi, lasted way beyond any sane expectations.
Then, there was Toleman. They entered Formula 1 with high expectations, but devastating results. Slowly, they built themselves up to respectability. They reached a crescendo at Monaco, nearly pulling off an upset for the ages. Then, at their height, they just as quickly disappeared, five years after entering the elite of the sport.
However, the legacy and foundation they left behind is huge. A virtual Who's Who of the best of the best of the various disciplines of the sport got their start with Toleman -- Ayrton Senna, Rory Byrne, Pat Symonds, and Brian Hart. When the team was sold, it became Benetton which went on to win two World Championships, and then became the latest Renault effort which won another two titles.
Christopher Hilton tells The Toleman Story for the first time. With Hilton's bibliography, the writing, flow, organization, and research is not surprisingly top notch. To use the old cliché, it's a page turner.
Some people like to read biographies of great people to see what makes them tick, how they developed into who they are, and the trials and tribulations they had to overcome. I prefer to read books about successful teams, preferably sports teams, more preferably racing teams. I like to learn how the teams formed and molded together, how they handled setbacks, how they grew and improved, and how they handled success and growth.
Hilton does a wonderful job explaining all that for Toleman Motorsport. From the beginnings of the company itself to the racing interests of the principles which led from a hobby to a new side business. Starting in Formula Fords, they went on to have great success in Formula 2, even building their own cars. They then entered Formula 1 in 1981 with high expectations. However, reality quickly set in as they missed the first three races, qualified for only two races (and only one car each time), and didn't even make it out of pre-qualifying at Monaco.
The author takes us behind the scenes throughout the tale with quotes and inside stories of all the key people involved. Both the expectations of the day as well as the hindsight of today help provide a complete narrative of the Toleman history. Hilton wraps up the book by updating us on the lives of the men we learn so much about. The book is rounded out with numerous photos, many of them from the personal collections of the participants.
When I was done, I was fully satisfied that I understood not only Toleman Motorsport and their history, but of the dynamics of the team, their dreams and goals, hopes and failures, and what part Toleman played in each of the team members' respective lives. As a bonus, one learns what Formula 1 was like in the first half of the 1980s.
You will also gain an appreciation of what the new teams in 2010 will be facing.
Copyright © 2010 by . All Rights Reserved.