Book Review
by Russell Jaslow

Forza Minardi!

by Simon Vigar
Veloce Publishing
ISBN: 978-1-84584-160-7. List Price: $49.95.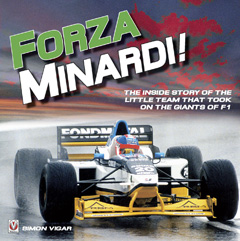 In the waning laps of the 2007 Canadian Grand Prix in Montreal, Takuma Sato, driving the underdog, underpowered, underdeveloped, underfunded Super Aguri, passed Fernando Alonso, the two-time World Champion driving the all powerful, obscenely funded McLaren-Mercedes for sixth position. The French Canadian crowd went wild. I, along with many other Formula 1 fans, became hooked on Sato-Mania.
From then on, until the fifth race of the 2008 season, I kept a keen eye on Super Aguri's performance each race weekend, hoping for another "miracle pass." I saw in Super Aguri what many fans saw years before in Minardi -- a team that reminded us all the reasons we go racing and watch racing.
Simon Vigar, a self professed Minardi fanatic, captures the history of one of the most loved underdog teams in Formula One in Forza Minardi! The Inside Story of the Little Team That Took on the Giants of F1. Vigar provides a year-by-year account of the team's (few) successes and (many) failures. From the start when Gian Carlo Minardi started the journey to the final years of the ever controversial but entertaining Paul Stoddart ownership.
The history of Minardi in many ways encompasses the history of Formula One growing from the last vestiges of a sport into a political quagmire of big business. Sir Stirling Moss said on the demise of Minardi, "It isn't a sport anymore, it's now just big business. Motorsport isn't there, motor business is."
The fact that Minardi lasted so long is a miracle onto itself. Vigar provides us a fascinating inside look to this transformation, and how so many forces for so long wanted to see Minardi disappear from the grid. While at the same time, Stoddart was able to use those same forces to his advantage in keeping Minardi alive well beyond any sane expectations.
The early chapters are a bit short, especially compared to the latter years. This could be due to the difficulty of digging up history the farther back you go in time or the waning years having a lot more to write about thanks to Stoddard. Or, perhaps a bit of both. So, while the early chapters at times left me wanting for more, the latter chapters left me fully satisfied. The inside dealings of Formula One are recalled in fascinating detail during Stoddard's time and will leave any fan, casual or diehard, shaking their heads at a sport that would make Wall Street tycoons wither.
It's not just the backroom politics that Vigar writes about. He recalls the stories of the drivers, crew, cars, testing, development, racing, the perils of being the "other" team in a Ferrari mad country, and of course the fans, who made Minardi Formula One's favorite second team, forming numerous fan clubs.
The team became a virtual Who's Who of Formula 1 drivers. Pierluigi Martini, Andrea de Cesaris, Alessandro Nannini, Roberto Moreno, Christian Fittipaldi, Alex Zanardi, Fabrizio Barbazza, Michele Alboreto, Pedro Lamy, Giancarlo Fisichella, Jarno Trulli, Fernando Alonso, Mark Weber, Anthony Davidson, Justin Wilson, Jos Verstappen, Christijan Albers, and Robert Doornbos all either cut their teeth at Minardi or wrapped up a career. Then, there are the drivers who quite frankly should not have been let near a Formula Ford never mind a Formula 1 machine...
Minardi holds the record for most Grands Prix contested without a pole at 340 and is second to Arrows (who contested 382) without a victory. Sometimes, it truly is about the journey and not the destination. Minardi showed us the journey can still be fun, and Vigar allows us to relive it once again with Forza Minardi!.
Copyright © 2008 by . All Rights Reserved.