Book Review
by Russell Jaslow

Speedway: Auto Racing's Ghost Tracks

by SS Collins and Gavin D. Ireland
Veloce Publishing
ISBN: 978-1-84584-241-3. List Price: $69.95.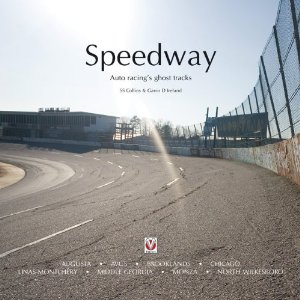 There are a number of books dedicated to long gone race tracks. There is Peter Hylton's Ghost Tracks and his follow up, More Ghost Tracks. Gordon Eliot White wrote Lost Race Tracks. Silent Speedways of the Carolinas is written by Perry Allen Wood. SS Collins and Gavin D. Ireland's first collaboration was Autodrome.
There can never be enough books on defunct tracks. (Conversely, it is sad there is a need for so many of these books.) The study of race tracks, present or past, is as important as the cars, drivers, teams, and races. After all, unlike any other sport, there is no greater venue diversity as there is in racing. Ultimately, it is the track that the drivers, teams, and cars need to conquer.
Some of the tracks covered in this book are also covered in the Autodrome book, and some may find the selections a bit odd. However, this book has a theme as evidenced in the title. What Collins (the writer) and Ireland (the photographer) wanted to do with this project was to take a North American perspective -- a look at speedways or road circuits that played a prominent role in stock car racing. Therefore, some may be repeats (but presented in a different way) from Autodrome, but they all fit in this book's theme.
They are split evenly between North America (Augusta, Chicago, Middle Georgia, North Wilkesboro) and Europe (Brooklands, Linas-Montlhéry, Avus, Monza). Collins writes a brief history of each track (though the section on Augusta is way too short for my taste) with key moments (though it's shocking he left out the most infamous incident at Avus -- the death of Bernd Rosemeyer during a speed record attempt, especially when he devotes so much time to the safety issues of Avus) as well as a description of the current remains of each respective track.
Meanwhile, Ireland captures those present day remains with a respectful eye towards the fallen tracks. His images coupled with the text allows your imagination to be taken back to the track's active days. As a bonus, period photos of action on the track properly provide the reader with the complete perspective.
Collins' writing is superb, and his account of ghost tracks is the best I have ever read. I will simply repeat it here:
These circuits, these rings of crumbling asphalt, these abandoned temples to the Great God of Speed are littered across the globe. Frequently forgotten and often overlooked, these places are strangely half there, half not. Sometimes they retain a feel of what they once were, of what went before. These rotting hulks are bizarrely alluring, and all have tales to tell.
You can't go wrong with a ghost tracks book. Speedway is not only an example of this, but it stands amongst the best. Thankfully, the authors are not done. They will be coming out with Autodrome 2 in the Fall.
Copyright © 2010 by . All Rights Reserved.