Book Review
by Russell Jaslow

Ghost Tracks
by Pete Hylton
Legacy Ink Publishing
ISBN: 978-0-9796976-1-6. List Price: $34.95.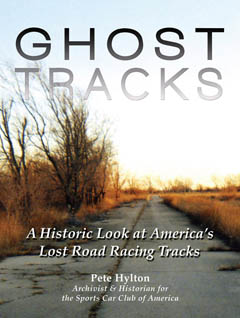 I love the opening to the TV series, The 4400. It shows what happens when people are no longer around -- the paint on a park bench fading and flaking off, a plaster wall cracking, grass growing around and eventually engulfing an abandoned auto. Nature quickly and swiftly takes back Man's attempt to conquer the elements when humans are no longer present.

That's the feeling I consistently got when reading Pete Hylton's Ghost Tracks. Perhaps no other sport tries to conquer the elements of nature and laws of physics as auto racing does. This is most evident in road racing, where we tame the earth with pavement and drive our cars at or beyond the limit, defying gravity and adhesion.

Ultimately, nature wins out. In the meantime, we have a heck of a lot of fun. Hylton captures some of that long gone fun by recalling and reliving the tracks that the Sports Car Club of America raced on throughout it's history, which are now either dormant, defunct, or completely wiped out.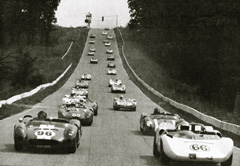 <!p class='regcaption'>THEN: Jim Hall leads the pace lap for a United States Road Racing Championship (USRRC) event down "The Chute" at Meadowdale.<!/P>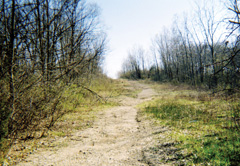 <!p class='regcaption'>NOW: Barely recognizable, this is what "The Chute" looks like forty years later. Much of the pavement is washed away and overgrown.<!/P>
The origins of this book go back to 2001 when Hylton, Archivist & Historian for the Sports Car Club of America, wrote an article called The Ghost Tracks for SCCA's Sportscar magazine. In it, he talked about Meadowdale, Marlboro, Pacific Raceways, and Mid-America.
It was a huge success and the members demanded more. A series of articles soon followed, and it became perhaps the most popular feature in the magazine's history.
The articles were The Ghost Tracks II (Continental Divide Raceways, Michigan International Speedway, Vineland Speedway, and Greenwood Roadway), The Ghost Tracks III (Lynndale Farms, Thompson Raceway, Vaca Valley Raceway, and Austin Raceway Park), The Time Machine (Stout Field, Chanute Field, Rock County Airport, and Elkhart Lake), The Ghost Tracks IV (Green Valley Raceway, Cotati Raceway, Lake Garnett, and Put-In-Bay), Not Just Another Stick and Ball Sport (Dodger Stadium, Candlestick Park, Metropolitan Stadium, Cardinal Stadium, Stardust Raceway, Caesar's Palace Raceway, Meadowlands), The Ghost Tracks: Where the Hell is Brynfan Tyddyn (Golden Gate Park, Moffett Field, Salt Lake Circuit, Giants Despair Hillclimb, and Brynfan Tyddyn), Ghost Tracks of Dixie (Courtland, Mansfield Airport, Louisiana Hilltop Raceway, Alvin Collender Field, and Cabaniss Field), and Ghost Tracks of the Southwest (Lake Afton, Hutchinson Airport, Ponca City, Billy The Kid Raceway, Roswell Airport, Las Oches Millas, Reno Street Course, Reno Stead Air Force Base, and Harrah's Reno).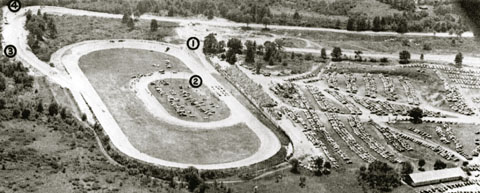 The first permanent circuit the SCCA used was Thompson Speedway in Connecticut. The road course used various configurations with parts of the small ovals and roads outside the oval and through the forest combined to make the track.
Many sites, such as airports or stadium parking lots, were picked out of necessity. Some were purpose built facilities by investors who were hoping to take advantage at what was supposed to be the "Sport of the 70s" whose success ranged from quick bankruptcy to slow painful deaths. Other tracks were based on the roots of SCCA racing through city streets, parks, and country roads.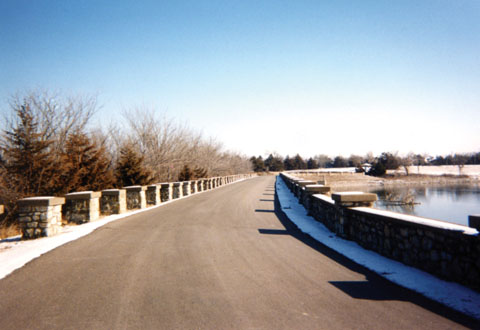 The Lake Garnett track ran around the lake in a city park adjacent to Garnett, Kansas. Note the stone wall that lined this part of the track was left unprotected just as you see it. These sort of safety issues forced the end of racing at Lake Garnett, though it lasted from 1959 till the late 70s.
One of the constant themes throughout the book is safety. Hylton is constantly amazed at how far safety has come in the decades since the birth of the SCCA. He points out how primitive some of the safety features, or complete lack thereof, were for the tracks of yesteryear.
When you read about Las Oches Millas, you will shout out, "What were they thinking?!" Many tracks had barely any protection between the cars and spectators, trees and walls lined the track, or unimpeded falls into lakes and over cliffs. It will amaze you that road racing survived that time period.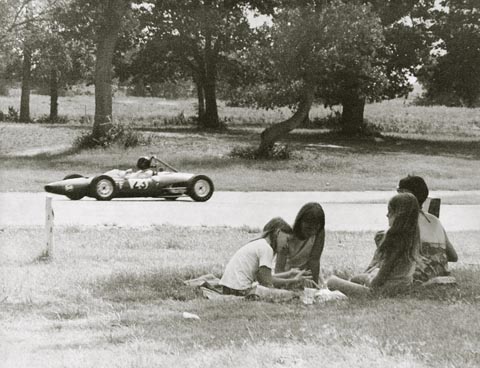 Your eyes are not deceiving you. Those are children playing alongside the Green Valley Raceway track with speeding race cars zooming by barely 150 feet away with absolutely no protection in between. (Photos courtesy of the publisher.)
Pete Hylton did a great service to the members of the SCCA when he brought back to life the ghost tracks long gone. Now, he shares that work with the rest of the racing world in his book which reprints all the original articles.
The one complaint I have is for a book, there are at times some depth lacking in the subject matter. However, that is because they were originally magazine articles, and were left untouched for this compilation.
Hylton did however take some advantage of the book format by updating us on some of the tracks and his own historic cars and Inn, writing about a rare resurrection of one track (Virginia International Raceway), and adding two chapters (A Brief History of Tracks and Early Safety Standards) that help round out the book.
Sadly, his work will probably never be done. There are still tracks he hasn't written about yet (such as Bridgehampton, Bryar, Connellsville, Riverside), and as we all know, nothing lasts forever, so there are sure to be more tracks that will disappear to be overtaken by housing developments, strip malls, or Nature itself.
In the meantime, enjoy them while they last. And when they don't, Hylton will be sure to remember them for us, like he did for dozens of deceased circuits in his excellent Ghost Tracks.
Copyright © 2007 by . All Rights Reserved.