Book Review
by Russell Jaslow

Motor Racing at Nassau in the 1950s & 1960s (Those were the days...)


by Terry O'Neil
Veloce Publishing
ISBN: 978-1-84584-198-0. List Price: $25.00.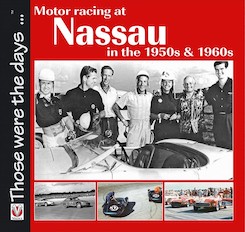 The Bahamas Speed Weeks was an interesting side note in sports car racing history during the transitional post-WWII period when the sport went from the streets to airfields to permanent road circuits. It was a unique event on a tropical island when the normal season was over which attracted the top names in all disciplines of the sport. An event where initially the parties almost outstripped the racing in importance.
It started out as an opportunity to extend the season with some good hard nosed, but gentlemanly amateur sports car racing to extend the tourism season. It soon became as professional and hardcore as any other event paying high starting and prize money where manufacturers used it as a proving ground for the cars they planned to set loose at Daytona, Sebring, and Le Mans.
Eventually, after 13 years, it ran its course. Partially unable to keep up with the expenses and improvements demanded of a high end event. Partially unable to payout the travel costs and prize money the teams and drivers demanded. Partially, a victim of the political party which eventually took power and always railed against the Speed Week as a waste of public resources. All adding up to being a victim of its own success.
Terry O'Neil has plenty of experience chronicling this period of sports car racing, having previously written Northeast American Sports Car Races 1950-1959 and Runways & Racers In fact, he has plenty of experience with this very subject, authoring The Bahamas Speed Weeks.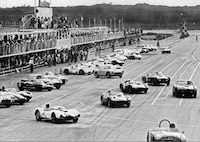 The Le Mans-style start to the 252-mile 1960 Nassau Trophy Race. 44 cars started the race with an Austin-Healey, four Ferraris and a Sadler Mk II making a quick getaway. Dan Gurney won in a Lotus XIX.
Unlike his definitive, exhaustive work on the subject, this endeavor is short and sweet. As part of Veloce Publishing's Those were the days... series, it fits a subject into about 100 pages to provide a basic but entertaining pictorial presentation. And with O'Neil's massive collection of photographs of sports car racing of the 1950s and 1960s, his biggest problem was probably trying to select the proper ones.
It is difficult to reduce a subject which O'Neil already consumed well over 400 pages on in his The Bahamas Speed Weeks. Yet, he manages to convey the history of this event, especially how at one time everyone wanted to participate. It turned this into a Who's Who of motor racing. Not just for sports car participants, but Formula 1, Indy car, and even NASCAR.
This is not a thorough handling of the subject like his previous effort. And if you already have The Bahamas Speed Weeks, this book is not necessary. However, for those who want a quick tutorial on motor racing in Nassau, with excellent photos, this is a solid source. And it may pique your interest to learn more about this 13 year unique end of season affair.
Copyright © 2021 by . All Rights Reserved.