Book Review
by Russell Jaslow

Runways & Racers

by Terry O'Neil
Veloce Publishing
ISBN: 978-1-845842-55-0. List Price: $69.95.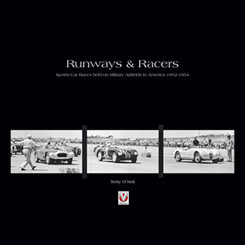 This is Terry O'Neal's second "part" of his unofficial series of books chronicling the early days of American sports car racing.
His first, which I reviewed, is Northeast American Sports Car Races 1950-1959 which covers exactly what the title says, concentrating on SCCA events. His most recent book covers the all important segment of racing that took place on military airfields in America 1952-1954. Although the key component was the agreement between the SCCA and the Strategic Air Command, O'Neal does write about the non-SCCA events which took place as well.
This is an important aspect of sports car racing in America which is often overlooked. Arguably, without the ability to hold races on military airfields during that period of sports car racing infancy, the sport may not have been able to grow in the 50s. Or, at the very least, been able to maintain itself until various tracks were completed which gave the SCCA and others a place to race on after the airfields were no longer accessible.
The book is done in the exact same style, layout, and prose as the Northeast Races book. Thus, whatever I wrote concerning the pluses and minuses in that review regarding those aspects are identical to this book. There is no need to repeat them here.
O'Neal covers the two most important aspects -- how the deal came to be and how the deal ended. The former was thanks to General Curtis E. LeMay, himself an ardent sports car fan, sometimes driver, and car owner at many of the events held on his own SAC Air Force bases. There is an implication that he used military cargo planes to ship his cars from one event to another.
The deal ended, as they always do when dealing with the government, due to politics. Specifically, Congressman Errett Power Scrivner, chairman of the House Subcommittee of Air Force Appropriations, who might have had it out for LeMay personally, used complaints from some of the base personnel to lead a charge to ban racing events on military bases. O'Neal not only does an excellent job describing this saga, but reprints the original speech given to the House of Representatives by Scrivner.
In between, the author talks about the races, drivers, spectator counts, the efforts used to put on such events, and the "profits" gained by the races and how they were used to improve living conditions on the base.
Perhaps it was inevitable that racing on government owned land could not possibly last. Some may even think three years was longer than anyone should have expected. Most who where there would probably say the racing wasn't very exciting anyway even if they did at times attract large audiences. However, it bridged a gap which was needed at the time.
All in all, this book does a good job filling in the shortlived, but all important period of early American sports car racing at a time when the sport was having trouble finding venues until LeMay and SAC came to the rescue. O'Neal should be commended for ensuring this piece of racing history is not lost to the sport.
Copyright © 2012 by . All Rights Reserved.