Book Review
by Russell Jaslow

Fast Ladies

by Jean-François Bouzanquet
Veloce Publishing
ISBN: 978-1-84584-225-3. List Price: $59.95.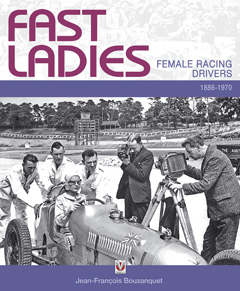 I grew up in the era of Janet Guthrie, Shirley Muldowney, and Michèle Mouton. I also grew up with a very strong mother and older sister. Perhaps for those reasons, I never found the idea of women race car drivers to be an oddity or an invasion into a man's world. Even though I knew and understood the many hurdles female racers faced, from my perspective it didn't seem abnormal.
What did surprise me throughout the years since my childhood as more and more women took up racing was the lack of any written record of women in racing, besides the occasional biography or autobiography of some of the more well known participants. And what surprised me even more was how many women competed throughout the history of the sport. Until now. First there was Fast Women, The Legendary Ladies of Racing
by Todd McCarthy which concentrated on the American scene, mainly the sports car set.
Now, there is Fast Ladies; Female Racing Drivers, 1888-1970. Jean-François Bouzanquet takes a Eurocentric approach (he mentions only two Americans, Dennis McCluggage and Betty Skelton), weaving the attitudes of the times towards women drivers in general with the exploits of those who went beyond the road to compete on the track. It begins with the very start of the sport and ends when women's lib takes hold, thus making the female racer less of an oddity.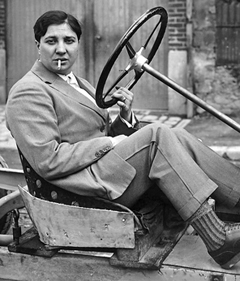 <!p class='regcaption'>Violette Morris, the most controversial figure amongst women race car drivers. She carried everything to the extreme and beyond, eventually meeting her fate at the hands of a British led French Resistance commando operation.<!/P>
Many of us grew up reading about the fascinating personalities that make up racing as their stories helped us fall in love with the sport and its drivers. It is no different when it comes to the "fairer" sex, and in many cases, fairer is an inaccurate adjective. How some of these stories could have been hidden for so long is a mystery, but now they are revealed. It is the prime reason to read this book.
Take Frenchwoman Violette Morris who is by far the most extreme case. She is the quintessential definition of tomboy. She is also the quintessential definition of whatever a man can do, so can a women as well as commitment and traitor. She successfully competed in many sports, sometimes against men, sometimes beating them including in boxing. She was married for five years, yet was openly gay, dressed in men's suits, and seemingly always had a cigarette in her mouth. She was so committed to her craft, she voluntarily had her breasts removed, so she could more easily fit behind a steering wheel. Nicknamed "the hyena of the Gestapo," she sided with Hitler, was a special guest in his Olympic box, fed secrets to the Germans during the occupation of France, and finally met her fate in a hail of bullets from a mission specifically designed to get the traitor.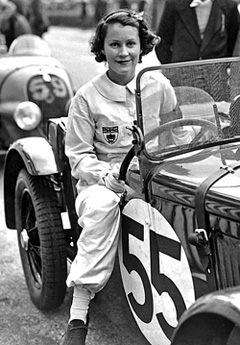 <!p class='regcaption'>Kay Petre sitting in her Austin Seven Grasshopper at the start of the 1937 24 Hours of Le Mans which resulted in a DNF due to a drop in oil pressure. Eight women competed in that year's race. Later that year, Petre was nearly killed at Brooklands.<!/P>
On the opposite end of the spectrum stood drivers who saw no contradiction in maintaining their femininity coupled with the necessary aggressiveness on the track. There's Kay Petre who famously dueled with Gwenda Stewart-Hawkes at Brooklands in one of the most epic record setting duels ever witnessed. Petre also proved that woman were not immune to the dangers of the sport as she nearly lost her life at Brooklands after being rammed from behind by Reg Parnell. Later, came the likes of Gilberte Thirion, Annie Bousquet, and Marie-Claude Beaumont, all of whom had no problem simultaneously being a woman and race car driver.
Europeans hold a high regard to rallies, sometimes on the equal to track racing. Thus, many female participants of the day made their mark in this form of the sport. We're not talking the TSD variety, but the "real" rallies, such as Monte Carlo, RAC, Acropolis, Targa Florio, etc. Some switched between the two disciplines. You'll learn about them all, including learning about possibly new bits of information you never knew before, such as when the first woman competed in Formula One. The year may surprise you.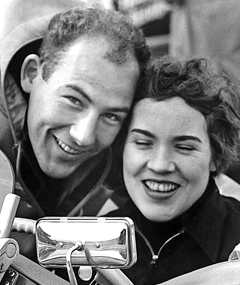 <!p class='regcaption'>Stirling Moss with his equally talented sister, Pat, who made her name in rallying. Here she is ready for the 1955 RAC Rally in a MGTF.<!/P>
You might find some of the bios on the short side as I did. However, the author in some cases probably had an extremely difficult time researching some of these "lost" stories. And, for some, like Hellé Nice, their stories are well known. For others, like Gwenda Stewart-Hawkes, their stories are finally told. (I was disappointed after reading Montlhéry - The Story of the Paris Autodrome, learning about Stewart-Hawkes but never provided a personal bio on her in that book.)
You'll also have to decide whether one individual belongs in this book. This person started their racing career as Robert Cowell and finished their career as Roberta Cowell. Perhaps some drivers are missing and the date cutoff a bit fuzzy as it would have been nice to see a mention of the inspiring story of Joy Rainey.
Overall, the presentation allows for the maximum number of personalities to be presented, and in the end, that's a good thing. Plus, you won't be disappointed in the numerous photos that illustrate the book.
Women race car drivers are becoming more and more common and accepted. Kids today are growing up with a more open mind than I had concerning females in racing. Along with this expansion will come more interesting personalities that will draw more fans to the sport. In the meantime, it's important to remember those who paved the way, even the most unlikable ones. Jean-François Bouzanquet helps to do that with Fast Ladies.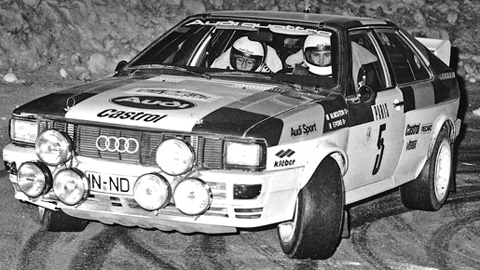 Michèle Mouton hurtling her Audi Quattro around a turn in the 1982 Monte Carlo Rally. Mouton was the most successful European female diver, finishing second that year in the World Rally Championship. (Photos courtesy of the publisher.)
Copyright © 2009 by . All Rights Reserved.