Book Review
by Russell Jaslow

Montlhéry - The Story of the Paris Autodrome

by William 'Bill' Boddy MBE
Veloce Publishing
ISBN: 9781845840525. List Price: $35.95.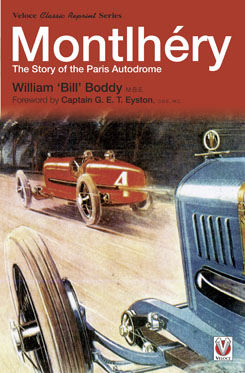 It didn't take long for auto racing in the United States and Europe to go their separate ways. Europe continued to go down the path of road racing while in the U.S., oval racing started to dominate, especially after the world's most famous oval was built, the Indianapolis Motor Speedway.
However, there were a few ovals built in Europe, and in fact some of them hold a significant status in the history of racing. The first paved oval built anywhere in the world was in Europe -- Brooklands in England started construction in 1907 and opened the following year. Monza rolls off the tongue of any racing aficionado with great glee, and it too had a high speed oval of historical significance. Germany had Avus and Spain had Sitges.
Then, there is the Montlhéry Autodrome, located about 15 miles south of Paris. This track, consisting of a 1.6-mile high-banked oval and various road course configurations (the longest at 7.8-miles), opened in 1924. Immediately, drivers and car manufacturers descended on the oval to attempt to set speed records. They didn't stop until WWII, briefly resumed afterwards until other areas such as the Bonneville Salt Flats became more suitable. Literally, thousands of records were set during that time.
In 1961, William Boddy wrote Montlhéry - The Story of the Paris Autodrome. Recently, Veloce Publishing reprinted the book with an additional chapter added to update us on the track's activities since the first printing through its closure in 1973 with historical events taking place since then.
Though road races, including the famed French Grand Prix, were held at Montlhéry (where Antonio Ascari was killed), it is the record breaking attempts that dominated activities at the track and thus dominate the book. One thing that struck me the most was how many times record attempts were made during the winter months in horrid conditions -- snow, ice, wind -- and not only were they not called off, but oftentimes were successful. There were records set from as short as the standing one mile to marathon affairs such as the 15,000-mile record. There was even a 133-day marathon!
The book is presented in a very straightforward style -- just the facts. Which is a polite way of saying it's not a very exciting read. I did at times struggle to get through certain passages. Granted, record breaking attempts aren't the most exciting events to write about, but there were plenty of opportunities to go beyond just the facts, and present some of the personalities, ordeals, and humorous events. Boddy does this when talking about "George Eysten's remarkable vanishing act." However, he misses entirely delving beyond the fact that women drivers were very prominent in many record breaking attempts.
One particular personality I would have loved to know more about is Gwenda Stewart. One of the major personalities of Montlhéry, she is mentioned numerous times throughout the book. She initially teamed up with her future husband Colonial Stewart. Later, she was often associated with Douglas Hawkes. Soon, Gwenda Stewart became Gwenda Hawkes. This personal transition was mentioned in one sentence. I certainly wouldn't want a soap opera rendition, but a bit more than just changing her name later in the book could certainly be warranted.
Boddy does reserve a chapter at the end about the two most dominate personalities in the track's history -- Gwenda Hawkes and George Esyten, but he quickly slips into discussing their cars and records just like the rest of the book. I have read some quotes elsewhere attributed to Gwenda which brings out a lot of the way she thought and felt, but none of that is in this book.
One disappointing part of the book are the photos. They were unable to find most of the originals, so they had to copy as best they could from the original printing. I commend them for making the effort to reproduce this important photographic history. However, they didn't go far enough and spend the time cleaning them up as much as possible. In fact, it didn't appear they spent any time using Photoshop. I'm not an expert on Photoshop, but I've got to think that the simple technique of manipulating the layers to clean up the checkered patterns found on copied photos could have done wonders, just for starters. The real shame of it is the book is printed on extremely high quality paper. Yet, it's wasted on not spending the effort to make the photos look as good as possible even if they were handicapped to start with.
Nonetheless, when I was done with the book, I felt the satisfaction that I just acquired a whole new chapter of knowledge in racing history that I was never aware of. I also got a good feeling of what it must have been like driving the oval, especially in the terrible conditions during the winter attempts.
Montlhéry - The Story of the Paris Autodrome, despite its flaws, gives you a unique perspective on a form of oval racing in a part of the world where road racing is king.
Copyright © 2007 by . All Rights Reserved.