Book Review
by Russell Jaslow

A Checkered Past


by Al Unser, Jr. as told to Jade Gurss
Octane Press
ISBN: 978-1-64234-045-7. List Price: $35.00.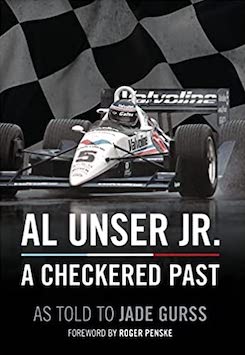 It's a cliché in sports. Athlete reaches the top of his or her profession and then losses it all. The money. The fame. The family. The friends. The reputation. There are even click bait "articles" on the subject.
Sometimes the fall from grace is due to alcohol. Drugs. DWI. Domestic violence. Infidelity. Lack of money control. Relying on bad advice from incompetent people. Sometimes, all of the above.
For Al Unser, Jr., sadly, it was all of the above.
Al Jr. doesn't hold anything back in telling his tale in the aptly titled, A Checkered Past. He was a hero to many racing fans. Two of the most iconic moments in Indy 500 history are due to Al Jr. -- the double thumbs up to Emerson Fittipaldi after being crashed out of the Indy 500 one lap away from winning and the emotional quote after winning his first 500, "You just don't know what Indy means."
There were Indy car and IROC championships. Indy 500 and 24 Hours at Daytona victories. A dynastic domination of the Long Beach Grand Prix. A Team Penske driver. A member of the most successful racing family in the entire world.
Yet, behind those iconic moments, great successes, and familial history, there was a dark side to Al Jr. A very, very dark side. From the very beginning, he lacked self control. Cigarettes. Alcohol. Cocaine. Affairs. Terrible money handling. Keeping lousy advisors in his circle. And, by his own admission, married to a woman who was the best thing and the worst thing for him.
Al Jr. comes clean as he tells his story. It's two stories tightly wound around each other like a double helix. One, his racing story. The other, his addiction story.
We get to learn the inside stories behind his true thoughts of being knocked into the wall by Emmo, his .043-second victory over Scott Goodyear, driving for Rick Galles and Roger Penske, his racing beginnings, his Long Beach successes, his failures to win at Road America, the final conclusion to Penske's shocking 1995 Indy failure, the downfall of his career, and even some inside scoop on Tony George and The Split. The type of stuff racing fans lap up.
We also learn, for the first time, the inside stories of his partying, the devastation of failing to qualify for Indy, his troubled marriage(s), the pain of losing his sister so young, his complete lack of money control, his willingness to let others take advantage of him, and even his numerous run-ins with the law for driving while drunk/high and domestic violence. The type of stuff racing fans don't want to hear.
Unser is willing to tell this whole story for two reasons -- to help others and for his own redemption. He's clean now and coming to grips with his life -- and hopefully will stay that way. This may, in some ways, be a Greek tragedy, but it does have a happy ending. Al Unser, Jr. fans will rejoice in that.
Once again Jade Gurss hits it out of the park. When you are an author for an "as told to" story, it's very difficult when you are putting the story into words and cleaning up the grammar, that you don't also interject your own voice, losing the subject's voice in the process. Yet, just like with Racer, Gurss completely maintains Al Jr.'s voice. And for that, you truly get Unser's life story, which was indeed a checkered past.
Copyright © 2021 by . All Rights Reserved.