Conor Daly and Alexander Rossi Tie for Top Spot in The Deep Throttle American Driver Prospects Ranking For Open Wheel Road Racing
August 25, 2010
Rochester, N.Y., August 25 — Star Mazda Championship presented by Goodyear driver, Conor Daly, continues to dominate and GP3 Series driver, Alexander Rossi, wins again in Europe, putting them in a tie for number one in Deep Throttle's American Driver Ranking for the end of August. The rest of the Ranking remained stable with the exception of Jonathan Scarallo moving up two spots and Nick Andries re-entering.
Daly won two more times, giving him six wins in 11 races along with four third places and a fourth as well as eight pole positions, including the last three in a row. Daly can clinch the championship at Mosport this weekend.
Rossi and Josef Newgarden, who remains third in the Ranking, nearly had a one-two American finish in the GP3 Budapest sprint race. However, with just three laps to go, Newgarden suffered mechanical problems. Rossi went on to win his second race of the season.
The Italian Formula 3 series went on summer holiday, so Gabby Chaves was idle, but remained fourth in the Ranking. Ditto for Matt Lee who stayed in the 11th ranking spot.
Charlie Kimball from the Firestone Indy Lights stays in fifth as his luck is finally turning towards the positive with a third (Mid-Ohio) and second (Sears Point).
Connor De Phillippi moved up a spot in the Star Mazda Series to fifth thanks to a fifth at Autobahn and third at Road America. This preserved his number six ranking. Cole Morgan also stayed put in the Ranking in seventh due to a, for him, off weekend at Road America in the F2000 Championship Series with a 10th and fourth.
Spencer Pigot from the BFGoodrich/Skip Barber National presented by Mazda also stayed in his place at eighth with a second and third at Road America. Sage Karam returned to action in the Cooper Tires presents USF2000 National Championship powered by Mazda with a vengeance. After finishing third at Autobahn, he took three consecutive victories in the second Autobahn race and both Road America races.
Dennis Trebing remained in 10th spot, winning at Road America in Skip Barber National and then finishing seventh after starting second.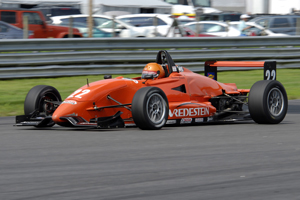 If not for an ailing fourth gear, Jonathan Scarallo would have had the perfect coming out weekend at Road America in the F2000 Championship Series. After starting second, he was moving in on first when his gearbox let him down. He came back the next day from pole to take his first win. Scarallo moved up two spots to 12th in the Ranking.
Felix Serralles continues to try new series. At Road America, he competed in both the Skip Barber National and USF2000 series. He took a win in a Barber race as he resides in 13th spot.
Ashley Freiberg remains in the Ranking, but is now tied with Andries for 15th spot. Besides a fifth place at Road America in Skip Barber National, she tried her hand in a Star Mazda race.
Andries returns to the Ranking, tied for 15th. He kept very busy in August, running two Skip Barber National races (with a sixth at Road America) and four Star Mazda races.
Miles Maroney remained idle as the Corsa Car Care presents Pacific F2000 finished up their two-month break. He dropped a spot to 14th.
You can read more details concerning why the ranking is being done and how the ranking is put together. There is also a junior formula motorsports schedule. with any questions or to discuss the ranking.
---
If you wish to be added or removed from the American Driver Prospects Ranking for Open Wheel Road Racing press release email list, just stating your wishes, and we will gladly comply.

Photo by
Copyright &copy 2010 by Russell Jaslow and Deep Throttle. All Rights Reserved.