Hildebrand Remains On Top of The Deep Throttle American Driver Prospects Ranking For Open Wheel Road Racing
July 29, 2009
Rochester, N.Y., July 29 — J.R. Hildebrand not only remains on top of the Firestone Indy Lights standings, but he also remains on top of July's Deep Throttle monthly ranking for American driver prospects in open wheel road racing.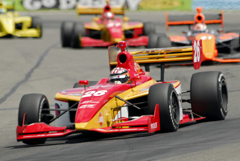 The top there drivers all had extremely strong months. Hildebrand took a victory at Watkins Glen after starting fourth. He moved up four spots at Toronto going from sixth to second. The American did it the easy way at Edmonton, leading every lap from pole position for this third win of the season.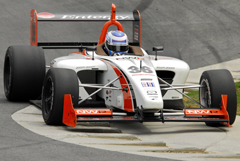 Over in the Cooper Tires Presents The Atlantic Championship Powered by Mazda, John Edwards has also won twice in three races. First he went from fifth to second at Lime Rock, and then won both races from the pole at the Autobahn Country Club. This not only moved him into second in the standings just five points behind first, but also second in the ranking.
Meanwhile, Josef Newgarden continues to excel in Europe.
"He is certainly showing the Europeans an American is quite capable of competing on their home turf," Deep Throttle Publisher Russell Jaslow said. "His record in 15 races in the MSA Formula Ford Series of Great Britain is astounding. He has won a third of those races, finished on the podium two-thirds of the time, and has taken 40% of the possible pole positions. Only twice he has finished outside the top five."
In just the six races in the month of July, Newgarden has three wins, two seconds, a third, one pole, and four fastest laps. This puts him second in the point standings, and if you factor in dropping the two worst results right now, he's actually leading the points. All this has moved him to third in the ranking.
Jonathan Summerton not only lost a position in the Atlantic Championship, but he dropped two spots in the ranking.
"It's not that Summerton did poorly," Jaslow said. "It's just that the drivers behind him did so well."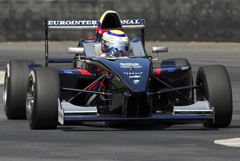 Conor Daly leaped to fifth in the ranking thanks to a second, a third, and a fifth in the BFGoodrich/Skip Barber National Presented by Mazda. Gabby Chaves also moved up a spot with a win from pole and a second in the Formula BMW Americas series, taking the points lead. Meanwhile, Joel Miller dropped two spots without any podium results in the Star Mazda Championship Presented by Goodyear.
Chris Miller made the largest leap in the standings of any driver, by jumping from eighth to first in the F2000 Championship Series with a victory and two seconds.
"The F2000 series is an extremely competitive, extremely wild series," Jaslow said. "Just consistently surviving races will earn you recognition, never mind picking up podium finishes."
Connor De Phillippi (Skip Barber National) dropped a spot in the ranking, while Robert Podlesni (Pacific F2000) and Matthew Inge (F2000) remained in the same slot. They are followed by Max Hyatt (Pacific F2000) who jumped two spots.
"Podlesni, Inge, and Hyatt could be in any of those three positions," Jaslow said. "They all had a very strong month of July, and perhaps should all be tied for 10th in the ranking."
Alexander Rossi (Formula Master) moved down one spot, while Court Vernon (Skip Barber National) makes his debut with a second and first in July to go along with his three other podium finishes and two poles. Benjamin Searcy had a rough July but remains in the ranking. Brett Smrz who lost his Skip Barber National ride due to finances, dropped out.
"There are a number of dogfights for championships involving American drivers," Jaslow said. "The month of August promises to be a very exciting one, and perhaps a very rewarding one for future American prospects."
You can read more details concerning why the ranking is being done and how the ranking is put together. There is also a junior formula motorsports schedule. with any questions or to discuss the ranking.
---
If you wish to be added or removed from the American Driver Prospects Ranking for Open Wheel Road Racing press release email list, just stating your wishes, and we will gladly comply.

Photos by
Copyright &copy 2009 by Russell Jaslow and Deep Throttle. All Rights Reserved.