Idle Conor Daly Keeps His Top Spot in The Deep Throttle American Driver Prospects Ranking For Open Wheel Road Racing
July 28, 2010
Rochester, N.Y., July 28 — Despite being idle, the Star Mazda Championship presented by Goodyear driver, Conor Daly, stays on top in Deep Throttle's American Driver Ranking for the end of July. Daly and his fellow series driver Connor De Phillippi, who remained in sixth, will have a busy August as they compete in four races in three weekends.
The European contingent, Alexander Rossi, Josef Newgarden, and Gabby Chaves, follow in the same three spots as last month, second through fourth, respectively. Rossi and Newgarden continue to try to make their mark in the competitive GP3 series. Rossi finished second and fifth at Silverstone. Newgarden qualified third at Hockenheim, and due to penalties, got to start from the pole. However, he crashed out of the race. He did score his first points at Silverstone.
Chaves got a seventh and eighth at Mugello to move up to 11th in the Italian F3 Championship standings. The other American in Europe, Matt Lee, remains in the 11th spot after dropping to 12th in the Italian F3 Championship with a best finish of ninth in July.
Charlie Kimball from the Firestone Indy Lights stays in fifth. His bad luck continued at Watkins Glen when his fuel pump broke on the pace lap. He finally reversed his fortunes with two fourth place finishes in Canada (Toronto and Edmonton), but he fell two spots in the standings to fourth.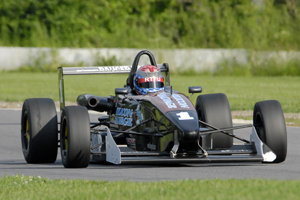 Cole Morgan had a strong month in the F2000 Championship Series. He got a fourth and third place finish at Watkins Glen after starting further back in the field. He won the first Lime Rock race, but it was the second race that was more impressive. He lost his brakes in a first lap collision which knocked both reservoirs off the master cylinder. Yet, he finished the 30-lap race in ninth place on the lead lap. He is still second in points.
"From lap one, turn one I had brake fluid all over my feet, and the brake pedal would just go to the floor," Morgan said after the race. "I realized what was wrong and what happened. I just backed off and just tried to bring it home and not put it into the wall. It was tricky. Lots and lots of lifting and lots and lots of being very, very careful."
Spencer Pigot from the BFGoodrich/Skip Barber National presented by Mazda also moved up one spot after claiming the pole for both races at the New Jersey Motorsports Park, though he finished in second both times. In both cases, a new driver took their first Skip Barber win, and both enter the ranking for the first time.
Felix Serralles win the first NJ race and took third in the other. He also made his F2000 Championship Series debut at Lime Rock with an impressive third qualifying spot in heavy rain. He debuts ranked 12th.
Ashley Freiberg did the opposite -- finishing third in the first NJ race and then claiming her first win in the second race. She now has seven top fives in 10 races and is ranked 15th.
Serralles and Freiberg are in a three way tie for third place in points with Dennis Trebing who remains 10th in the ranking, after a fifth and a seventh at NJ.
Sage Karam, through no fault of his own, drops two spots to 9th. The Cooper Tires presents USF2000 National Championship powered by Mazda was idle in July.
Also idle was Miles Maroney as the Corsa Car Care presents Pacific F2000 takes a two-month hiatus. He dropped a spot to 13th.
F2000 Championship Series driver Jonathan Scarallo dropped a spot to 14th with a mixed bag at Watkins Glen and Lime Rock. He finished outside the top 10 at the Glen losing ground each race. At Lime Rock, he gained ground each race, improving five spots in the first race to finish seventh and moved up three positions for sixth in the second race.
You can read more details concerning why the ranking is being done and how the ranking is put together. There is also a junior formula motorsports schedule. with any questions or to discuss the ranking.
---
If you wish to be added or removed from the American Driver Prospects Ranking for Open Wheel Road Racing press release email list, just stating your wishes, and we will gladly comply.

Photo by
Copyright &copy 2010 by Russell Jaslow and Deep Throttle. All Rights Reserved.