Conor Daly Remains On Top in The Deep Throttle American Driver Prospects Ranking For Open Wheel Road Racing
June 30, 2010
Rochester, N.Y., June 30 — Conor Daly remained on top in Deep Throttle's American Driver Ranking for the end of June thanks to constant visits to victory circle. Daly won two more times, both on ovals, in the Star Mazda Championship presented by Goodyear. If not for an admitted officials' error in New Jersey Motorsports Park, Daly would have taken three wins in June.
The next two spots occupied by Americans competing abroad in the GP3 Series swapped positions. Alexander Rossi had the stronger month, taking a fourth and third at Istanbul but failing to finish at Valencia. Meanwhile, Josef Newgarden only had one 10th place amongst a host of problems.
Gabby Chaves, also running overseas in the Italian Formula 3 series, took his first pole of the season at Hockenheim, winding up sixth in the race.
Charlie Kimball from the Firestone Indy Lights moved up a spot thanks to a third place finish at the Brickyard. However, at Iowa, he had a race to forget, with problems in qualifying forcing him to start last resulting in race-ending contact on the first lap. Switching places with Kimball is Star Mazda driver, Connor De Phillippi, with mixed results over the course of June.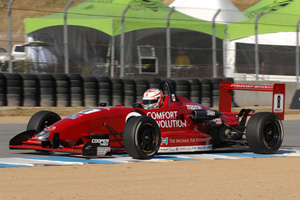 Despite an excellent month taking two wins and a second, Sage Karam of the Cooper Tires presents USF2000 National Championship powered by Mazda remains in seventh spot. Cole Morgan of the F2000 Championship Series also remained in his spot -- eighth, with a third and a second at Mosport.
Below them, another two drivers flipped places, both from the BFGoodrich/Skip Barber National presented by Mazda. Spencer Pigot moved up to ninth with two second place finishes at Lime Rock while Dennis Trebing dropped a spot. Matt Lee continues to shine in the Italian Formula 3 series taking a fourth at Hockenheim.
Miles Maroney from the Corsa Car Care presents Pacific F2000 enters the ranking for the first time in 12th spot. In the last four races, he has taken a win and three runner ups to place second in the point standings. Jonathan Scarallo dropped a spot after crashing his F2000 Championship Series car so heavily in the first qualifying session, he was unable to continue for the weekend.
Nick Andries from the Skip Barber National is another newcomer to the ranking. He has three podium finishes and five top-fives to currently sit fourth in the championship. Brett Smrz remains in the last ranking spot as his season finally kicked off as the Jim Russell Champion Series was able to survive, reworked as the Jim Russell "Race of Champions." Smrz finished second and third in the opening weekend.
Robert Podlesni and Benjamin Searcy dropped out due to no open wheel activity.
Though the Star Mazda series will be idle in July, everyone else will be quite busy, as Indy Lights tops the action with three events in four weeks.
You can read more details concerning why the ranking is being done and how the ranking is put together. There is also a junior formula motorsports schedule. with any questions or to discuss the ranking.
---
If you wish to be added or removed from the American Driver Prospects Ranking for Open Wheel Road Racing press release email list, just stating your wishes, and we will gladly comply.

Photos by
Copyright &copy 2010 by Russell Jaslow and Deep Throttle. All Rights Reserved.