First 2009 Deep Throttle American Driver Prospects Ranking For Open Wheel Road Racing Sees New Faces
June 24, 2009
Rochester, N.Y., June 24 — It's the nature of a new year that a ranking system for young up and coming stars is going to have a lot of turnover. The first 2009 Deep Throttle monthly ranking for American driver prospects in open wheel road racing is no exception.
Four drivers (Richard Antinucci, Carl Skerlong, Dane Cameron, and Jeff Westphal) from last year's final poll do not appear because they went on to other forms of racing. One driver, Jonathan Bomarito, has been unable to find a ride after starting the season off with one Indy Lights and Atlantic race. Two prospects (Alex Ardoin and Sean Rayhall) are still competing, but have gotten off to slow starts. This left the door open for seven new faces to appear.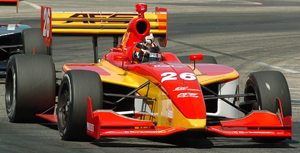 However, a familiar face is on top. J.R. Hildebrand, who stayed in Firestone Indy Lights but with a different team, currently leads the championship thanks to a quick start with a pole and third at St. Pete and a pole and victory at Long Beach.
Following Hildebrand is Jonathan Summerton who finished 2008 also second in the rankings. Summerton is keeping busy competing in both Indy Lights and Cooper Tires presents the Atlantic Championship powered by Mazda. The schedule hasn't affected his driving as he has had success in both series. John Edwards is back in the Atlantic series and doing much better this time around and is ranked third.
The big news concerns the driver ranked fourth, Josef Newgarden. After winning the Formula Ford Festival at the end of 2008, Newgarden decided to stay in England and find a European ride. He found two. He competes full time in the MSA Formula Ford Championship of Great Britain where he has won twice and part time in Formula Palmer Audi. In the latter series, Newgarden has won twice and finished fourth in just three races.
"With the creation of Team US F1 and Newgarden getting experience in European-style competition and tracks, he is positioning himself quite nicely for a possible Formula 1 future," Deep Throttle Publisher Russell Jaslow said. "Every American racing fan should be keeping a close eye on Newgarden's exploits."
Joel Miller stayed in the Star Mazda Championship presented by Goodyear while Conor Daly debuts there, and they are ranked fifth and sixth, respectively. Following them is the first new face in the ranking, Gabby Chaves.
"Everyone was aware of Chaves ever since he made his car racing debut at the amazing young age of 13, and even more remarkably, was extremely successful," Jaslow said. "Now that the Columbian born youngster is an American citizen, we'll have to see if he can be the champion that another foreign born American driver was. Of course, we're talking about Mario Andretti."
So far, Chaves has seven podium finishes in seven races including two victories in Formula BMW Americas.
Connor De Phillippi (BFGoodrich/Skip Barber National presented by Mazda) and Chris Miller (F2000 Championship Series) also make their debuts with successful starts to their respective seasons. Robert Podlesni returns to the Pacific F2000 Series while Matthew Inge competes in the F2000 Championship Series.
Alexander Rossi returns to the ranking, but like Newgarden, he is now also competing in Europe in the Formula Master series. Rossi just won his first race there. He's followed by three previously unranked drivers: Benjamin Searcy (F2000), Max Hyatt (Pacific F2000), and Brett Smrz (Skip Barber National).
"The economy has certainly had its affect on the development series," Jaslow said. "Many series such as Atlantic, FBMW, and Pacific F2000 are barely seeing a dozen entries a race. Bomarito, last year's top ranked driver in the final poll, has been unable to fund a ride. However, there are series that are relatively healthy and seeing large fields. It might be hit and miss this year, but it shouldn't detract from the talent American drivers are displaying.
"Meanwhile, we here at Deep Throttle are expanding our effort to bring you coverage of the American driving prospects. We have created a dedicated website to the American Driver Ranking, and we plan on bringing you track side reporting of the junior formula series when we can. We already covered Long Beach, and we hope to be at the track for the upcoming July Watkins Glen and Lime Rock events."
You can read more details concerning why the ranking is being done and how the ranking is put together. There is also a junior formula motorsports schedule. with any questions or to discuss the ranking.
---
If you wish to be added or removed from the American Driver Prospects Ranking for Open Wheel Road Racing press release email list, just stating your wishes, and we will gladly comply.

Photo by
Copyright &copy 2009 by Russell Jaslow and Deep Throttle. All Rights Reserved.