Conor Daly Is On Top Of Initial 2010 Deep Throttle American Driver Prospects Ranking For Open Wheel Road Racing
May 26, 2010
Rochester, N.Y., May 26 — In the third season of Deep Throttle's American Driver Ranking, Conor Daly, in his second season of the Star Mazda Championship presented by Goodyear, is ranked number one for the year's first listing.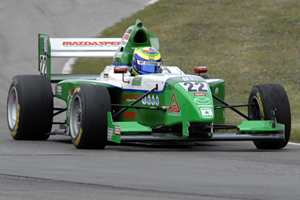 The top three drivers from 2009, J.R. Hildebrand, John Edwards, and Jonathan Summerton, have moved on, leaving big race shoes to fill for the next batch of eager American drivers. While Daly continues to stay in the States to hone his skills, four Americans have chosen to go across the Atlantic to ply their skills. The next two in the ranking, Josef Newgarden and Alexander Rossi, respectively, are in their second season in Europe, and their first in the new GP3 Series.
Newgarden is ranked second mainly on the strength of an amazing 2009 season which saw him win nine times in the MSA Formal Ford Championship of Great Britain en route to a second place finish in the standings. Rossi made a huge jump from last year's final ranking, from 12th to 3rd, after a solid GP2 Asia campaign over the winter, and then winning the second GP3 race in Barcelona.
Moving up one spot from last season to fourth is Gabby Chaves who is campaigning in the Italian Formula 3 series. Matt Lee is also in that series, as he makes his debut in the American Driver Ranking at 13th. Connor De Phillippi also moved up a spot to fifth as he moved up to Star Mazda.
In 2005, Charlie Kimball finished second in the prestigious British Formula 3 championship. Since then, he has struggled to repeat that effort while dealing with diabetes. Now hooked up with AFS Racing/Andretti Autosport in Firestone Indy Lights, he appears to have his mojo back, and makes his Ranking debut in sixth.
Sage Karam also makes his debut in seventh as he won the very first two races in the new Cooper Tires presents USF2000 National Championship powered by Mazda. Cole Morgan is back to competing in the F2000 Championship Series, the same one he won in 2007, and is ranked eighth. Meanwhile, Robert Podlesni also returns to a series he won, Corsa Car Care presents Pacific F2000. The defending champion is ranked ninth.
Two BFGoodrich/Skip Barber National presented by Mazda competitors are 10th and 11th. Spencer Pigot and Dennis Trebing, respectively, occupy those spots as they have each won two races this year. Jonathan Scarallo from the F2000 Championship Series debuts in 12th.
After Lee, two drivers who currently don't have rides, hang on to the last two spots. Benjamin Searcy finished fifth in the inaugural USF2000 weekend, but financial problems currently have him sidelined. Brett Smrz, who took fourth at last year's Formula Ford Festival, had planned to run a season in the Jim Russell series. However, that series is in dire straights, leaving Smrz scrambling for other options.
2010 appears to be an exciting year for American drivers with seven new faces in the American Driver Ranking, four competing in tough European series, and some stalwarts no longer considered in the rankings, leaving plenty of opportunities this year for the young prospects to catch the eyes of car owners and fans.
You can read more details concerning why the ranking is being done and how the ranking is put together. There is also a junior formula motorsports schedule. with any questions or to discuss the ranking.
---
If you wish to be added or removed from the American Driver Prospects Ranking for Open Wheel Road Racing press release email list, just stating your wishes, and we will gladly comply.

Photos by
Copyright &copy 2010 by Russell Jaslow and Deep Throttle. All Rights Reserved.