Watkins Glen Coverage:
Saturday
Kyle Connery Returns From Trip To Hospital To Finish Second in F2000
Watkins Glen, N.Y., June 4 — Friday was not a good day for Kyle Connery (7th in the American Driver Ranking) after crashing heavily during the morning practice session for the F2000 Championship Series. The car was severely damaged and he was taken to the hospital complaining of pain. He was listed as questionable for the weekend.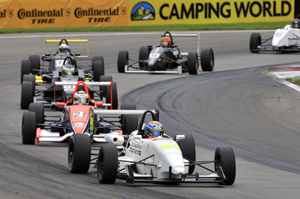 <!p class='regcaption'>Kyle Connery led the first half of the race before settling for second.<!/P>
However, Connery did not suffer any injuries, and his CC Motorsport crew did a miraculous job putting his #91 Connery Concrete VDRF06/Zetec back into race shape. He knew he was fast, having turned the third fastest time before he crashed and topping a Thursday test session.
"After yesterday's visit to the hospital, it was a bittersweet comeback yet again," Connery said. "The guys did a fantastic job putting the car back together."
Meanwhile, fellow American Chris Livengood (ranked 10th) grabbed pole position for Saturday's race with a time of 1:51.801 around the 3.4-mile circuit. Connery qualified fourth behind Remy Audette and Robert La Rocca.
Action started right from the start. La Rocca was helped off the track into the tire wall ripping his front wing and nose off. For the polesitter, it was almost as adventurous.
"Pure madness," Livengood described the start. "Somebody hit me on the inside, sent me down the escape road in Turn 1. Fell back to like eighth or ninth. Managed to get three guys around the outside in the Inner Loop. I knew the double yellows were coming, so I scrambled to get Scarallo past the Toe of the Boot. So I came around in fourth. It was a crazy start."
"We just tried to pace ourselves, play conservative at the start," Connery described his start. "I was on the gearbox of Remy and accidentally touched Remy, and when I touched Remy I checked up and moved out so I wouldn't touch my wing on his rear tire and flatten his tire. But when I did I guess I caught Tim [Minor]. I really apologized to him. I didn't see him. If I had, I would have just given him the position and gotten it back later."
When the race resumed, Connery was in the lead followed by Audette and Livengood. The top two swapped positions back and forth in Turn 1 for two consecutive laps as overall, the top three began to pull away from the field. Niki Coello was comfortably in fourth place with no one close in front nor behind him.
The race finally got it's shakeup and subsequent settling down on lap eight. Audette dove down the inside of Connery in the braking zone entering the Inner Loop. Audette not only made it stick, but immediately began to pull away.
"I tried to go back after Remy, but just didn't have enough for him today," Connery said.
Audette held the comfortable lead while Livengood harassed Connery lap after lap with Coello still sitting in fourth place. This went on for the remainder of the 14-lap race ... until the latter half of the last lap.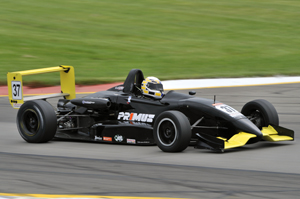 <!p class='regcaption'>Chris Livengood lost third place on the last lap due to a mechanical problem.<!/P>
Suddenly, Livengood slowed down, drifting back to fifth place at the finish line, handing the final podium spot to Coello with Tim Paul finishing fourth.
"We lost the coil again," Livengood said. "Second coil today."
For Connery, the weekend went from possibly going home early to a runner up spot, preventing points leader from expanding his 13-point lead over Connery to an even larger margin than the 19 points it now is.
"I'm still really sore," Connery admits. "It's just something a driver gets around. When you want it bad enough, you just tough it out and go after it. Today we did just that. We have one more day to get it done, so hopefully tomorrow will be better for us."
The series returns to Watkins Glen on Sunday for a short day -- qualifying in the morning and a race just before noon.

Photos by
Copyright &copy 2011 by Russell Jaslow and American Driver Ranking. All Rights Reserved.