Mosport Coverage:
Sunday
De Phillippi Takes Second in Thrilling Mosport Star Mazda Race
Bowmanville, Ontario, Canada, July 24 — The Star Mazda Championship presented by Goodyear woke the early Mosport crowd on Sunday morning with a thrilling, side by side, wheel banging affair between two Americans, resulting in a Brazilian victory and Connor De Phillippi (6th in the American Driver Ranking) in second place.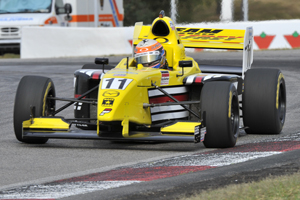 <!p class='regcaption'>Connor De Phillippi led the early part of the race, but had to settle for second.<!/P>
"It was so fun," De Phillippi said. "That was probably one of the funnest races I've had in a long time."
Sage Karam (ranked 5th) started from pole position. However, De Phillippi got him at the standing start. De Phillippi led the first 18 laps, but with Karam harassing him all the time, looking for a way by. Behind them, Nick Andries, who started fourth, was passed for that position by J.V. Horto, who started fifth.
"We had a good pace throughout the race," De Phillippi said. "We were leading for awhile. Sage and I had a big battle the first three quarters of the race, side by side through many of the corners throughout the race."
Karam was faster through the 7-8-9 complex, but kept losing ground through Turn 10 leading onto the front straight. Karam would occasionally attempt a pass where he was strongest, sometimes on the outside. On lap 19, he pulled alongside De Phillippi going into Turn 8, stayed with him along the outside of Turn 9, which gave him the inside of the tighter Turn 10, finally pulling off the move.
"The pace we set in the beginning of the race was a good pace for me," De Phillippi said. "I thought it was not too hard on the tires. When Sage got around me, he really pushed hard. I thought that might cost him later, and it did."
Karam did initially open a gap, but De Phillippi wouldn't give up, closing it back up. Then, De Phillippi's expectations panned out, and Karam bobbled.
"He messed up in Turn 3 and we went side by side going into 5," De Phillippi said. "We both braked as deep as we could, and he kind of slid up into me, and we banged front wheels. It was just hard racing."
De Phillippi retook the lead, but only very briefly. Behind then, Horto was methodically moving through the field. When the two Americans banged wheels, Horto was in third place. The lost momentum of the leaders allowed Horto to simply power past them on Andretti Straight and into the lead.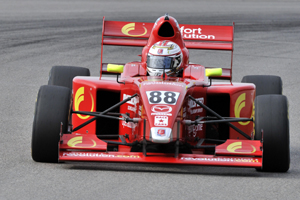 <!p class='regcaption'>Pole sitter Sage Karam grabbed the lead on lap 19, only to fall back to sixth after damage to his car.<!/P>
After that excitement, Horto opened up a healthy gap to take the win and Karam drifted backwards with a damaged car, passed three more times to wind up sixth. After the race, Karam was penalized, dropping him to 13th, costing him dearly in the points. Andries was the second to pass him for a fourth place finish. Andries also recorded the fastest race lap, giving him a bonus point.
"All it took was one bobble [by Karam], and from that point on the tires were pretty damaged, and he couldn't recover," De Phillippi said.
"It was really a tire management race," De Phillippi said. "You had to be there at the end. That's what JV did. He managed the tires a little better than I could, and it cost us at the end. It's nice to be back on the podium. We gained points on the field ahead of us."
De Phillippi is now only six points behind the championship leader, Tristan Vautier, who finished fifth today. Andries is third in the standings, eight points behind his fellow countryman. Karam is back in fifth, just two points behind Andries in a very close battle for the title.
The Star Mazda series stays in Canada, for the Grand Prix of Trois-Rivieres on August 5-7, with a doubleheader.

Photos by
Copyright &copy 2011 by Russell Jaslow and American Driver Ranking. All Rights Reserved.