Mosport Coverage:
Saturday
Livengood Repeats Runner Up Spot in Second Mosport F2000 Race
Bowmanville, Ontario, Canada, July 23 — Chris Livengood (12th in the American Driver Ranking) got the pole position for the second F2000 Championship Series race at Mosport. However, he was unable to hold on after a restart, slotting back to second place where he finished. Once again the race was checkered early after 14 of the schedule 18 laps due to time constraints
<!p class='regcaption'>One of the many cars eliminated from a first turn, first lap pile up.<!/P>
The time constraint was due to the first seven laps run under a full course yellow thanks to a pile up in the first turn right after the field took the green. Eliminated in the crash was second qualifier and yesterday's winner, Kyle Connery (ranked 8th), along with fellow American, Zach Craigo, who started seventh.
"I got a real good start on Chris," Connery said. "I thought I was going to get him on the outside into 1. Decided it wasn't meant to be and gave it to him. Followed in right on his gearbox, and was coming out of the corner really cleanly and the next thing I knew [Robert] La Rocca [who started third] just drove right over my right rear and entered the cockpit and took a bunch of innocent guys out."
Connery's helmet had the marks to show just how scary the crash was.
"I didn't really see the start of it," Livengood said. "Connery played it pretty fair with me, on the outside. It's hard for me to speculate or accuse anyone of anything. I did see a white car sideways and a wing in the air."
"Honestly, really disappointed," Connery said. "Didn't expect that from him [La Rocca]."
It took awhile to clean the mess up, as the cars of Connery, Craigo, Tim Minor, and Dan Denison had to be hauled away, while La Rocca did drive back to the pits before calling it a day as did Brent Gilkes after two laps.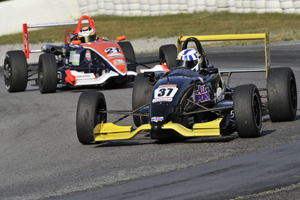 <!p class='regcaption'>Chris Livengood (37) led from pole over Remy Audette (21), but dropped back to second at the restart.<!/P>
When the green flag flew again to start the eighth lap, Livengood's lead quickly went away as Remy Audette drove by him with ease before they even got to Turn 1.
"The track completely changed from this morning," Livengood said. "I was having a real hard time keeping pick up off my tires. I jumped when I thought I wanted to jump and the car just understeered so bad. His car didn't understeer and he just drove right by me."
For the remainder of the race, Audette steadily stretched the lead for a 2.868 second advantage at the checkered flag. Livengood was able to open a gap to those behind him to grab second place.
"The start was great," Livengood said. "I drove hard today and kept the car on the track. It's the first weekend in 2011 that we've been on the podium both days. Can't complain too much. We're going to go into the long break here with smiles on our face."
Livengood is now just five points behind Audette in the championship, thanks to the consistent weekend. Meanwhile, Connery who had gotten right back into the title hunt, has to once again dig himself out of a hole.
"It's really devastating to the championship," Connery said. "Today we were finally within striking distance. Now, it looks like we have to regain our composure and win the next four races. We'll be back at Lime Rock in full force."
There is a two-month break before the Lime Rock doubleheader on September 16-17.

Photos by
Copyright &copy 2011 by Russell Jaslow and American Driver Ranking. All Rights Reserved.