Mid-Ohio Coverage:
Sunday
Megenbier Takes Third in Second USF2000 Race
Lexington, Ohio, August 7 — Timmy Megenbier spent last year racing in Germany. After winning the 2009 SCCA VW Jetta TDI Cup championship in his second year, he earned a ride in the German Volkswagen Scirocco R Cup Series, where he finished fourth. This year he returned to the States, putting together a family run team to compete in the Cooper Tires Presents the USF2000 National Championship Powered by Mazda series. He last raced open wheel in 2007 in the BFGoodrich/Skip Barber National presented by Mazda.
<!p class='regcaption'>Timmy Megenbier got third, his best finish since returning to America and open wheel racing.<!/P>
This weekend at Mid-Ohio produced Megenbier's best results with a fourth on Saturday and a third in the second race after starting fourth. The 20-year-old grabbed third on the start, only to lose it a lap later, but stayed with it to regain the last podium spot on the 13th lap. He passed Spencer Pigot (9th in the American Driver Ranking) who started second.
"Start was phenomenal," Megenbier said. "We really worked hard on cold tire testing."
Pigot got caught on the outside at the start on the backstraight heading into the esses. This allowed Megenbier to slide into third place. The next time around, Pigot had the run, went down the inside of Megenbier entering the esses, and outbraked him for third.
Megenbier didn't give up, clinging to Pigot's tail. In the meantime, polesitter, Petri Suvanto, once again ran away with the race with Wayne Boyd again comfortably in second. Behind all this action, Zach Veach (ranked 7th), who started fifth, lost one spot on the start. Then, Luigi Biangardi got by Veach on the backside of the track on the seventh lap, dropping the 16-year-old to seventh.
The fight for third was decided when Pigot and Megenbier caught lapped traffic.
"Caught a perfect lapped car in the keyhole." Megenbier said.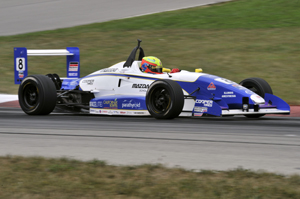 <!p class='regcaption'>Despite an outside front row starting spot, Spencer Pigot finished fourth.<!/P>
With Pigot balked, Megenbier got by. Pigot tried to keep up, but Megenbier eventually opened a gap. For the remainder of the race, the status quo held, giving Megenbier his first USF2000 podium. Pigot finished fourth as Veach wound up seventh.
"It was a good race," Megenbier said. "We struggled all weekend trying to get up to speed. We had a great morning, things went really well. My engineer, Mike, went through everything. We left the setup from yesterday. We left the scrubbed tires on from qualifying. We worked so hard since I moved back from Germany. Everything we do makes us go faster."
Pigot lost a lot of ground to points leader, Suvanto, now trailing the Finnish driver by 43 points. Veach dropped to third place, nine points behind Pigot. The series heads to the penultimate doubleheader at Road America on August 19-20 before wrapping up at Baltimore on Labor Day weekend.
"Still a long way to go," Pigot said on Saturday. "I'm kind of approaching it we have to win races. We'll keep fighting till Baltimore."
However, it's Megenbier who may have the advantage at Road America. He currently sits seventh in points, out of contention for the championship, but quite capable of stealing points from the contenders.
"Road America is my home track," he said. "Everything I've raced there, I've won."
So far, Megenbier has certainly made the transition back to open wheel racing and American competition.

Photos by
Copyright &copy 2011 by Russell Jaslow and American Driver Ranking. All Rights Reserved.