Baltimore Coverage:
Star Mazda
Karam Survives Altercation To Take Second
Baltimore, Maryland, September 4 — Sage Karam (6th in the American Driver Ranking) survived a first lap wheel banging incident with other top runners to move up from fifth to finish second in the Star Mazda Championship Presented by Goodyear race.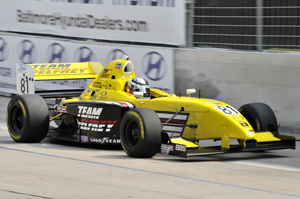 <!p class='regcaption'>Nick Andries, who started third, got caught up in the early wheel banging, costing him a good finish.<!/P>
"We [Nick Andries and J.V. Horto] went down to Turn 1," Karam said. "Everyone was hard on the brakes. It's pretty bumpy down there. We were all aggressive. We went three-wide in Turn 3. It's a hairpin, so I didn't think everyone was going to get through. We all hit each other and Nick went into the air."
For Andries (ranked 10th), the day was essentially over. He returned to action after repairs, finishing in ninth place, four laps down. Karam took advantage of the altercation, jumping two spots to third place.
Meanwhile, at the front of the field, polesitter Tristan Vautier hung onto the lead with Connor De Phillipi (ranked 3rd) right behind him. Vautier opened a gap. A few laps later, De Phillippi closed the gap a bit, only to have Vautier open it back up again. Then, it all went horribly wrong for De Phillippi.
Running without any pressure from behind and unable to catch the leader, De Phillippi crashed.
"Connor De Phillippi went into the wall, and we gained a position from that," Karam said.
The crash caused a full course yellow. After the restart, the green flag period didn't last long, much to the chagrin of Karam.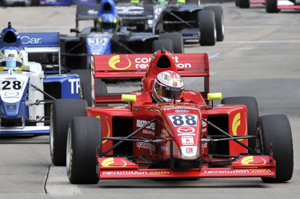 <!p class='regcaption'>Sage Karam (88) fought his way from fifth to second.<!/P>
"We had a shot at winning the race," Karam said. "I had a chance at the inside but decided not to. But looking back at it now, I wish I would have. I didn't expect there would be another yellow after that. But, I'm really pleased with second place."
The other yellow caused a lengthy clean up, and the officials were forced to checker the race before they had time to restart it. Behind Vautier and Karam was J.V. Horto who also survived the early altercation.
With one race to go in the season (Laguna Seca), De Phillippi remains in second in the points, but 38 points behind Vautier. There are 46 points up for grabs in the season finale. Andries is in third, 10 points behind De Phillippi. Karam sits in fifth, just two points behind Horto.
"I thought it was a fairly good race," Karam said. "I only had about 10 laps on the track going into the race because I had a little bit of an accident yesterday. We definitely didn't have all the information we wanted to go into the race. We were definitely down compared to our competitors. We ended up getting a pretty good set up anyway and did the best with it."

Photos by
Copyright &copy 2011 by Russell Jaslow and American Driver Ranking. All Rights Reserved.