Baltimore Coverage:
Sunday
Pigot Wins Final USF2000 of Season
Baltimore, Maryland, September 4 — Spencer Pigot (7th in the American Driver Ranking) erased the nightmare of the first lap pile up from the day before to lead every lap en route to victory in the final race of the Cooper Tires Presents the USF2000 National Championship Powered by Mazda.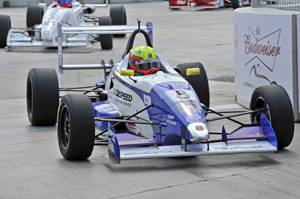 <!p class='regcaption'>Spencer Pigot (8) held off Petri Suvanto (3) on the last lap for the win.<!/P>
"First goal was to get through first corner," Pigot said. "It was great. We led every lap which is always nice. Unfortunately, there was a few safety car periods where we had a big lead."
Out of the 15 laps run in the timed race, seven of them were under two separate full course yellows. Pigot jumped out to the lead on the initial start and then held it on the first restart. Wayne Boyd began to close in on Pigot at this point.
"First few laps, I was really working to keep ahead of Wayne," Pigot said.
Pigot eventually pulled away while Petri Suvanto, who clinched the championship yesterday, passed Boyd for second place. Suvanto now tried to reel in Pigot, which he did slowly, but it did not appear he would have enough time.
Then, the second full course yellow came out to enable him to close the gap. It took awhile to clean up the incident. When the race finally resumed, the green and white flags greeted the field.
"It might have been difficult for me on the last lap with Petri right on my tail," Pigot said.
Memories of Road America came back when Pigot was in a similar situation with Suvanto on his tail.
"One lap shootout like last time at Road America," Pigot said. "Luckily, this time I won the race with Petri second, unlike Road America."
Suvanto stayed glued to Pigot's tail around the entire final lap, but could not find a way around on the tight, narrow street circuit.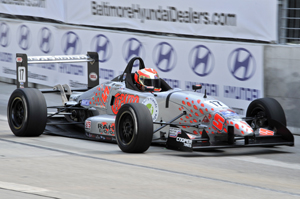 <!p class='regcaption'>Timmy Megenbier finished seventh after starting 16th.<!/P>
"I just had to concentrate on the restart through the chicane," Pigot said. "I knew it was going to be close. Every little straightaway, I was checking to see if I needed to defend, to see if I was pulling away a bit or closing. It was great fun, really close racing."
Pigot took the checkered flag for his third win of the year. He wound up second in the final points standings.
"It was great to comeback from the disappointment yesterday and get the win today," Pigot said.
Timmy Megenbier finished seventh putting him sixth in the final standings. Zach Veach (ranked 9th) did not finish the race, placing him fourth in the points.

Photos by
Copyright &copy 2011 by Russell Jaslow and American Driver Ranking. All Rights Reserved.