Watkins Glen Coverage:
Day Two
Cole Morgan Moves Up Through F2000 Field Again
Watkins Glen, N.Y., July 4 — Cole Morgan (8th in the American Driver Ranking) did it again at Watkins Glen, turning a poor starting position into a decent finish. For the second F2000 Championship Series race on Independence Weekend, he turned a worse starting position (ninth) into a better finishing position (third).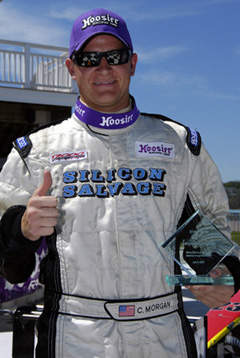 <!p class='regcaption'>Cole Morgan proudly displays his third place trophy.<!/P>
"We made some bar changes, some spring changes, and the car was perfect," he said. "I thought I was going to get a bad start, but it ended up everybody washed out pretty wide. I threw it in first gear, and got by Minor, Scarallo, and those guys."
Morgan jumped from ninth to fifth on that first lap. The very next lap, he dispatched Fabio Orsolon for fourth place. Then, he tracked down his fellow American, Chris Livengood.
"A little bit of a battle with Fabio," Morgan said. "But once I got clear of him, I started running down Livengood. I realized I was really catching him, so I just made sure I put down clean laps, not to do anything excessive. Eventually, he made a mistake into nine. He went off. We went into 10 side by side. After that I just pulled away."
For the first 10 laps, Livengood maintained first place, but the leaders, Australian Daniel Erickson and Brazilian pole sitter Victor Carbone, respectively, slowly pulled away to fight amongst themselves for the win.
<!p class='regcaption'>Chris Livengood finished fourth in the second F2000 race.<!/P>
"I got a great start," Livengood said. "Again, the car was amazing in the beginning of the race. Once again it got a little tight near the end. Cole was applying some pressure right when my car was the hardest to drive, and I made the mistake for him."
Now, Morgan set his sights on the leaders, and had a front row seat to some very aggressive driving ahead of him.
"The last three laps I could see them almost going side by side into the Inner Loop almost every lap," Morgan said. "Not that I was hoping they would wreck each other, but I wouldn't have minded someone going off or anything like that. That's why I just drove my race once I got by Livengood. I knew I had third in the bag. I wasn't going to try and push and throw it off or make a mistake. If Victor and Daniel had gotten together, it would have been a nice win or a nice second."
Instead, Morgan settled for the final podium spot, but probably wondered what might have been if he had a better qualifying time.
"We may have had something for the leaders if we got the yellow flag or something like that, but it was just too much to make up for a race that went green the whole way," he said.
Morgan knows he needs to correct that at the next event at Lime Rock: "Qualifying is very important there, so we really need to get our stuff straight in practice because we wouldn't be able to do what we did here this weekend, going from seventh to fourth and ninth to third. We wouldn't be able to do that at Lime Rock. So we have to make sure we're up front, and we'll be good."
Livengood capped his best weekend in the series with the fourth place finish after a second yesterday.
"Overall, a really, really good weekend," Livengood said. "Now, we have to improve every weekend which is my goals overall. We got a lot of little different things we can improve to stay in the hunt."
Up front, Erickson held off Carbone (who recorded the fastest race lap at 1:53.229) which included one lap with some legally marginal blocking down the back straight.
The series next heads to Lime Rock with another double header on July 23-24 with the American Le Mans Series.
Wretched Weekend. The only American in Indy Lights, Charlie Kimball, had a weekend as sour as grapes left too long on a Finger Lakes vineyard. First he ran into problems during qualifying which left him taking the green flag in sixth out of the 14-car field. That is, if he could have taken the green flag.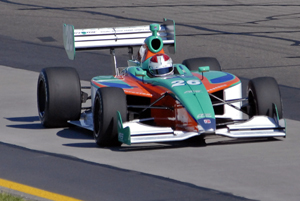 <!p class='regcaption'>Charlie Kimball had an Indy Lights weekend to forget.<!/P>
His car stalled on the pace lap. A broken fuel relay switch was the culprit. He got towed in while the field took another lap under yellow. His crew replaced it, but by the time he re-entered the race, the field had gone by four times. However, due to attrition (Pippa Mann and Dan Clarke taking each other out and Stefan Wilson blowing his engine), Kimball was able to salvage some points with an 11th place finish.
Coupled with the last race at Iowa where he didn't finish the first lap, Kimball's title hopes have taken quite a hit -- he fell from second to fifth in the standings, 54 points behind the leader.

Photos by
Copyright &copy 2010 by Russell Jaslow and American Driver Ranking. All Rights Reserved.