Watkins Glen Coverage:
Day One
Chris Livengood Has Breakout Performance in F2000
Watkins Glen, N.Y., July 3 — Before the F2000 Championship Series entered the Watkins Glen weekend, American Chris Livengood's best finish was a seventh at Road Atlanta. His best start a sixth at Mosport. In the first Watkins Glen race, he put his Turn 1 Pro Sports Van Diemen RF00 on the pole and led the first eight laps, before giving way to Australian Daniel Erickson.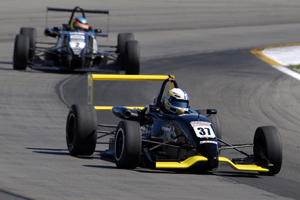 <!p class='regcaption'>Chris Livengood (#37) led the field early in the race.<!/P>
The top four cars slowly pulled away from the field by lap three, then the top two cars opened up a gap three laps later. Livengood himself opened a little gap on his pursuer, Erickson, and appeared to be looking at a flag-to-flag run. However, Livengood's lap times began to increase, and Erickson was on Livengood's gearbox by lap seven.
"I started picking up a bit of an understeer," Livengood said. "Daniel was running right there. He got me going into the chicane."
Erickson made the pass on lap 9 and held on for the victory. Livengood stayed in second, losing ground in the final laps.
"Honestly, I feel like I just made a few more mistakes than Daniel today," Livengood said. "Had I turned some perfect laps, he wouldn't have had something on me. I don't know whether I got nervous or it was just a long weekend. I made a couple of mistakes, and he managed to get away. The car was really good. It got a little bit tight. But this place tends to eat tires, so once he got away, I decided to just ease off a bit and let him go."
So, what changed for Livengood from the prior three race meets? A lot of hard work and a track he enjoys.
"The track is amazing," he said. "I don't want to attribute our breakout, sort to speak, to this track alone. I think it was combination of a lot of hard work. This weekend, we kind of got the luck going in our direction. But, at the same time, I can't ignore the track certainly suits my style. You can get a good rhythm out there. It's really high speed. It's a lot of fun to drive."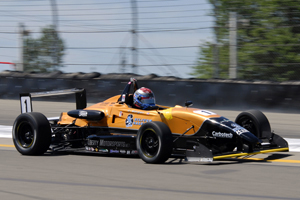 <!p class='regcaption'>Cole Morgan finished fourth in the first F2000 race.<!/P>
Unlike last year's crashfest at the Finger Lakes track, the drivers behaved themselves. The action was on the track, and most of that action involved Cole Morgan (8th in the American Driver Ranking). Second in the point standings, Morgan struggled in qualifying, starting eighth.
"We've just been struggling," Morgan said. "It seems every change we made to the car wouldn't make any difference. We couldn't figure it out. So we finally did some big stuff last night. Just threw the kitchen sink at it, and it worked."
First Morgan had to endure the start, which can be hairy at Watkins Glen.
"The start was crazy because the front straight is so wide," he said. "I just wanted to get out of it with my car intact."
His Silicon Salvage Van Diemen RF06 was intact, but he lost a position, dropping to ninth after the first lap. Then, the excitement began.
"After the first few laps, we just started picking cars off," Morgan said. "I could tell we had a fast car."
Morgan moved up a position each on the next two laps. By lap six, he made his way to sixth place. On lap seven, he passed for fifth. Two laps later, he was in fourth, where he finished after 14 laps. Some of his moves required some very, very late breaking to pull off, one time overdoing it in the Inner Loop, sliding wide and giving the position back. None of his competitors made any of his passes easy. He had to do the old fashion way -- he had to earn it.
"It was really tough," Morgan said. "There were a few guys out there fighting pretty hard. My in-car video will definitely be pretty entertaining. We got fast race lap [1:53.140 around the 3.4-mile circuit]. We know what we need to do now I think for tomorrow. Unfortunately, we start ninth, so it will be another eventful race. But I think we can have the same result tomorrow. It was a very good race."
Masters driver Tim Minor finished third. Jonathan Scarallo (ranked 13th) finished 13th after starting sixth. He suffered suspension damage during the race, and was lucky just to hang on to see the checkered flag.
They all do it again on Independence Day morning. This time Livengood will start fourth, while his nemesis for today, Erickson, has the pole. Sandwiched between them are two Brazilians, Victor Carbone and Fabio Orsolon, respectively. Meanwhile, Morgan once again will have his work cut out for him, starting ninth, with Scarallo just ahead of him.
"Qualifying that far back is going to be tough to pass here but not impossible," Morgan said. "You get creative. There's a lot of good passing zones. The paved runoff in the Bus Stop has got people being a little bit crazy because they know now if they go off they're not going to be stuck. They can just spin and keep going. So you got people being pretty stupid going in there. You just have to be smart and use your head."

Photos by
Copyright &copy 2010 by Russell Jaslow and American Driver Ranking. All Rights Reserved.