Mosport Coverage:
Day Two
Daly Wins Star Mazda Race, Championship
De Phillippi Puts in Drive of Race for Podium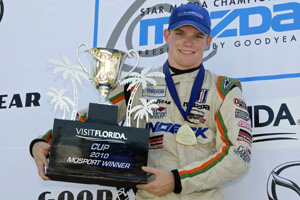 <!p class='regcaption'>Conor Daly holds the Visit Florida Cup as the 2010 Mosport winner.<!/P>
Bowmanville, Ontario, Canada, August 28 — Conor Daly (Tied for 1st in the American Driver Ranking) made a statement at Mosport in the Star Mazda Championship Series presented by Goodyear. He won pole (his ninth of the season), led every lap, won the race (his seventh of the season), and clinched the 2010 championship with one race to go.
"It's really all thanks to the team," Daly said. "They worked incredibly hard all season. It might be more their championship than mine. It was a pretty scary race the whole time. The track the whole time was very slippery. I could see Connor [De Phillippi] was coming. I just had to keep working at turning good laps."
<!p class='regcaption'>Conor Daly (22) jumps out to an early lead heading into Turn 1 after the start.<!/P>
Daly got a great jump from the pole position, immediately opening a gap to the rest of the field. Jorge Goncalvez stayed with him for a few laps, but eventually was unable to maintain the American's speed. Daly extended the lead slowly but surely lap after lap.
Meanwhile, Connor De Phillippi (ranked 6th) was having an action filled race. He qualified sixth after turning the second fastest lap in practice the day before, and clearly had one of the fastest cars in the race.
"We had put qualifying behind us because we had a bit of a struggle," De Phillippi said. "We had a fantastic race car today."
De Phillippi passed Mikael Grenier for fifth on the fourth lap. He immediately went after Anders Krohn. At the start of the eighth lap, De Phillippi had a run on Krohn down the main straight. De Phillippi threw the car into the first turn underneath Krohn, and with the car sliding around, De Phillippi hung on to take fourth place.
"I was turning in early for that turn more than anyone else all weekend," De Phillippi said. "So, I felt comfortable making that move like that."
Now, De Phillippi started to chase down Tristan Vautier. It took awhile, but he finally did so, passing Vautier on lap 18, going around the outside of Turn 10 and still having enough momentum on the straight to close the door on Vautier entering Turn 1.
Up front, Daly continued to open the gap while it appeared De Phillippi would not have enough time to catch Goncalvez for second place. However, De Phillippi eventually did, closing the final gap thanks to lapped traffic. De Phillippi made the move for second place on the backside of the track on lap 28.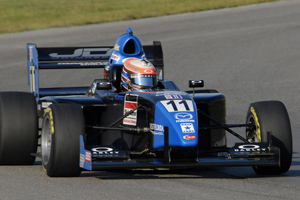 <!p class='regcaption'>Connor De Phillippi came from sixth starting spot, held second temporarily, before settling for third place.<!/P>
It appeared to be an American 1-2 finish, with Daly holding onto a healthy lead despite De Phillippi turning in faster laps. Then, in the waning laps, a full course yellow came out thanks to Mikhail Goikhberg, making his Star Mazda debut, sliding off course coming out of Turn 1, and crashing into the tire barriers.
Now, the large lead Daly had evaporated, and the strongest car in this stage of the race was right behind him.
"The restart was hard," Daly said. "The track was getting slicker and slicker the whole race. The car was really hard to control. I was just able to get a good start, and I could see everyone was right behind me, so I had to get a good run through Turn 1. It was very slick through Turn 1 as Connor found out firsthand. He slid pretty wide and Jorge got a run on him. Once I saw them two battling, it was just focusing on finishing the race."
When De Phillippi slid wide, Goncalvez got underneath him. They raced up the hill to Turn 2 side-by-side. They touched wheels entering the turn, and then throughout the ultra fast, ultra gutsy, ultra dangerous turn that defines Mosport. Goncalvez eventually came out ahead, and held on for second place.
"At the end we just unfortunately got caught at the restart," De Phillippi said. "But I'm still happy with third place. Unfortunately, we're battling with Jorge for third in the championship, and now he extended that lead."
Further back in the field, Nick Andries (ranked tied for 15th) had an action packed race. He started 11th, moved up to ninth, threw it away with a spin and stall in Turn 5b, fell down to 16th, before working his way back up to 11th where he finished.
"Overall, I kind of made up for the positions I lost to the spin," Andries said. "It was the most fun I had all year. It feels good to finally have the pace to run with the front runners, battle, and have a car where I can pass people because this year is a learning year for me. Maybe next year we'll make a run for this championship."
Daly has a 82 point lead over Krohn, and thus cannot be caught with one race to go at Road Atlanta. There is a lot of talk of Daly applying his skill in Europe next year, but for now, he is just worrying about the 13th and final race in the series.
"The Road to Indy program is obviously very attractive," he said. "It's a great open wheel ladder system in America. But there's also a part of me that wants to represent America on the top step of the podium in Formula 1. I don't know what will happen right now. We're going to go to Road Atlanta to finish up the season completely and then evaluate all the options, and then we'll see."

Photos by
Copyright &copy 2010 by Russell Jaslow and American Driver Ranking. All Rights Reserved.