Lime Rock Coverage:
Day Two, Part Two
Morgan, Scarallo Come Together in Second F2000 Race
Lime Rock, Conn., July 24 — The two top young Americans in the F2000 Championship Series got a bit too close to each other on the first lap of the second race at Lime Rock Park. The result ruined both their races, though Scarallo did manage to salvage a sixth in his R-Sport Van Diemen RF01-Zetec.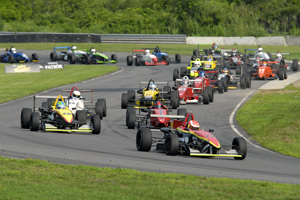 <!p class='regcaption'>A closely packed start spelled doom for two young Americans.<!/P>
Cole Morgan's (8th in the American Driver Ranking) problems started the rainy day before when he qualified way back in 12th position. Jonathon Scarallo (ranked 13th) also started further back than he would have liked in ninth spot. It meant at the start, the two wound up making contact.
"It was just a problem starting so far back," Morgan said. "There was no where to go. I tried to go to the outside and I just got on the brakes a little bit late, and I got into Scarallo. When I did that the crush box inside the nose shifted over and broke both reservoirs off the master cylinder. So from lap one, turn one I had brake fluid all over my feet, and the brake pedal would just go to the floor. I realized what was wrong and what happened. I just backed off and just tried to bring it home and not put it into the wall."
"I got a good start again, but it all went down the tubes when I got hit from behind," Scarallo said. "Everything I gained got taken away from me there."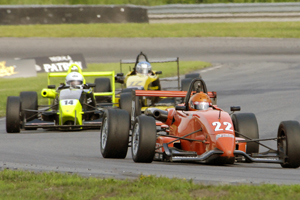 <!p class='regcaption'>Jonathon Scarallo (22) had his hands full battling other competitors.<!/P>
Scarallo then got embroiled in a battle royale with Tim Minor, Steven McAleer, and Felix Serralles. However, traffic always seemed to work against Scarallo.
"Slowly but surely, like race one, I kept my head down, kept pushing and picked them off one by one," Scarallo said. "My killer was traffic. Everything I was hoping would happen to my competitors, with them getting held up in traffic and with me getting through clear, was 180 degrees off. The guys in front of me would pass someone going through the uphill then I would try and do it, and they would slam the door on me. And the same thing in the downhill.
"Still, to come back and charge through the field, I was happy with, but obviously you're never completely happy unless you are on the top step of the podium."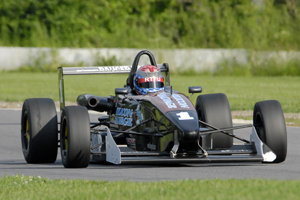 <!p class='regcaption'>Cole Morgan circled the track alone with a wounded car.<!/P>
Meanwhile, Morgan had the ridiculously tough task of keeping his K-Hill Motorsports Van Diemen RF06-Zetec in the race -- heck on the track -- with no brakes. How did he do it?
"It was tricky," he understated. "I was downshifting at the five [marker] going into Turn One and shifted into second and just held on to it. Lots and lots of lifting and lots and lots of being very, very careful especially when they had the safety cars on track and when we got into traffic. I couldn't really do anything with anybody. I was hoping for maybe a couple of the guys up front having mechanical problems."
Morgan wound up in ninth place. Quite an achievement with such a wounded car in a field which started 25 cars.
Up front, Brazilian Victor Carbone took his pole position and ran away from the field, extending his points lead over Morgan. The story of the race was Australian Daniel Erickson who went from 14th to second place. Master class driver Phil Lombardi claimed the final podium spot in a relatively clean race which went all green despite some minor incidents.
The series next heads to Road America for their penultimate doubleheader on August 6-8.

Photos by
Copyright &copy 2010 by Russell Jaslow and American Driver Ranking. All Rights Reserved.