Lime Rock Coverage:
Day Two, Part One
Cole Morgan Takes Come From Behind Win in First F2000 Race
Lime Rock, Conn., July 24 — The F2000 Championship Series ran all their practice and qualifying sessions in the rain. None of the top rookie drivers had ever driven Lime Rock in the dry. Couple that with a starting grid that wasn't quite the norm, and you had a recipe for excitement on a dry Saturday morning at Lime Rock Park.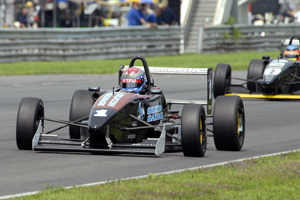 <!p class='regcaption'>Cole Morgan (1) takes the lead from Daniel Erickson en route to a come from behind victory.<!/P>
Cole Morgan (8th in the American Driver Ranking) started fifth and had experience at Lime Rock in the dry.
"I think it definitely helped me quite a bit," Morgan said. "I haven't run it since they repaved it. I think it really helped on the restarts and the start because I knew what to do in Turn One."
Morgan got a great restart.
"I just went to the inside hoping that somebody would go too deep and everybody would wash out," he said. "And they did. So, I just went middle of Turn One, and I was second."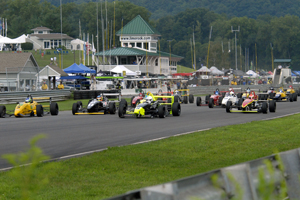 <!p class='regcaption'>Cole Morgan goes through the middle of the field at the start of the F2000 race.<!/P>
Morgan then set his eyes on pole sitter Daniel Erickson who quickly opened a five-car length lead before Morgan began to close the gap. Then came the break Morgan was looking for -- a full course yellow. The restart worked to perfection.
"Got a good restart but didn't really have anything for him and then he missed a shift on the front straightaway so I capitalized on that," Morgan said. "And I got to the lead.
"Just kept trying to chip away to get a gap. We didn't have the greatest car, but it's so hard to pass here. As long as I didn't make any big mistakes, I knew I would probably be okay."
It was now Morgan's turn to open a little bit of a gap, only to have a full course yellow negate it. With the race now being a timed affair, the green flag flew in time for just two more laps.
"The last couple of laps were nerve wracking," Morgan admitted. "On the restart, I just went to the inside. If he wanted to go around me, he could take the outside. I think he did, and he went off in One. So that worked out for me to perfection. After I saw him off, I just kept it on the track the last couple laps and brought it home."
It wasn't quite that easy, as Morgan nearly lost it coming down the hill to complete the penultimate lap.
"I could tell on the pace lap the car had a lot of oversteer in it," he said. "So I went full soft on the rear bar and full stiff on the front bar. It helped. The car really behaved great, but it was a couple of times it caught me out a little bit. We'll make some changes for the second race."
Erickson's off opened the door for Steven McAleer to finish second, followed by three masters drivers, Phil Lombard, Keith McCrone, and Tim Minor. Felix Serralles took sixth while Jonathon Scarallo (ranked 13th), who never drove a dry lap at Lime Rock in his life, came home seventh. Scarallo fulfilled his prophecy after not qualifying well in the wet, starting 12th.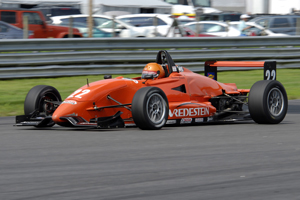 <!p class='regcaption'>Jonathon Scarallo was "Mr. Excitement" wounding up seventh after starting 12th.<!/P>
"As I said yesterday, I was going to be Mr. Excitement today in the dry," Scarallo said. "The race was a lot better than yesterday. We had no dry laps. The R-Sport's crew did a great job prepping the car. We didn't get the qualifying run we wanted, so I was going like mad just picking them off one by one. Then a crash would happen in front to make me lose spots and start all over again. I hope to do it again in the second race and hope to be spraying some champagne."
The second F2000 race takes place at the end of the day after the American Le Mans Series event. Once again, it is a race with an out of sorts starting order, but this time, all the drivers have some dry track time under their belts.

Photos by
Copyright &copy 2010 by Russell Jaslow and American Driver Ranking. All Rights Reserved.