Watkins Glen Coverage:
Day Three
Fireworks and Tempers Flare in Second F2000 Race
Watkins Glen, N.Y., July 5 — The fireworks continued on this 4th of July weekend and the tempers flared in the final race at Watkins Glen for the F2000 Championship Series. The lessons from Friday and the lecture from the Chief Steward didn't do much as it took only half a lap for the carnage to renew. When it was all done, multiple protests were filed for alleged driving infractions and passes under yellow. So, who won? That's a good question.
Undecided. By the end of the day, the results and points were still provisional as the officials sort through all the chaos which could take a few days. On paper, Phil Lombardi is the winner. By all accounts, he will not be affected by the protests. After holding the lead for a few laps, even inching away a bit, he was forced to endure a final restart with two laps left.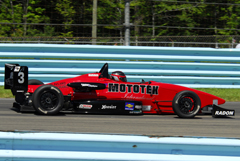 <!p class='regcaption'>Phil Lombardi won an action filled race from the sixth starting spot.<!/P>
"I was slow a bit on the restarts," Lombardi said. "Al Guibord, Jr had a run on me, but I wasn't going to brake until he backed off. We went into those corners as deep as we could go."
Once safely in front, Lombardi again inched away for a safe lead. Meanwhile, Matthew Inge (11th in the American Driver Ranking) worked his way around Guibord for second.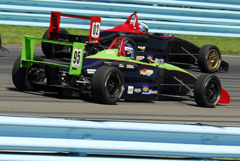 <!p class='regcaption'>Al Guibord, Jr. (95) and Matthew Inge duel for second place. Guibord had his best weekend in his F2000 career, finishing 4th on Friday and 3rd on Sunday.<!/P>
"The top cars were so comparable in speed that any one of us could have won that," Guibord, Jr said. "As far as trying to get past Lombardi, I didn't want to take an unnecessary risk and take us both out."
The action started the first time they reached the Inner Loop. After Friday's winner, Chris Miller (ranked 9th), took the initial lead with an outbraking maneuver on the outside going into the Inner Loop, four cars in the back of the field collected each other in what appeared to be two separate incidents. Alejandro Munoz and Chris Camadella were unable to continue. While attempting a restart, Tom Fatur, Jonathan Scarallo, and Phil Lombardi were involved in an incident sending Scarallo into the pit wall.
"We were three wide on the restart and Lombardi came down on me," Scarallo said. "To avoid hitting him I managed to make contact with Tom Fatur, putting me into the wall "
"It looked like Lombardi didn't get a good start, and he came down on Jonathan [Scarallo], who clipped me, bending my steering," Fatur said. "I just drove a few more corners with the steering wheel the wrong way and then just parked it."
Meanwhile, Miller was sandwiched going into the Inner Loop, forcing him to fall back to third. At the next restart, Lombardi, Matt McDonough, and Miller were fighting tooth and nail before Lombardi started opening a slight lead. Then came another controversial coming together resulting in one car hard into the Inner Loop tire wall.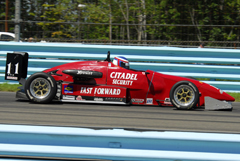 <!p class='regcaption'>Matt McDonough was running strong until he tangled with points leader Chris Miller.<!/P>
"I did give way [to Miller] going down the backstraight," McDonough said. "I ran on the left side. I tried to give him all kinds of room into the chicane. I braked a little bit earlier than I usually do. I tried to make it as easy as I could for him. He went in there really fast. What I think happened, he had to brake really hard and the rear end of the car rotated and it caught my front, and it sent me into the tire wall on the left side of the chicane."
Then came the last restart and Lombardi hanging on for the win. "That was a challenging race," he said in perhaps the understatement of the weekend.
Miller had to pit to replace a cut tire. He restarted in 24th and moved up to 12th in those final two laps, allowing him to keep the points lead.
The teams don't have much time to fix all the damaged cars. They next compete at Summit Point in two weeks.
Got To Start. Benjamin Searcy (ranked 13th) finally got to run some race laps. After crashing in qualifying on Friday and unable to fix the car in time for the race, the crew wrapped up their work for Saturday qualifying. Searcy put it ninth on the grid. After falling back early in the race, he moved up to finish sixth, salvaging some points this weekend, most likely enabling him to hold onto fourth place in the standings (pending the outcome of all the protests).
"It got better for the race, but we could have used another session," Searcy said. "The car wasn't 100%. We had a little oversteer in mid-corner. It was controllable but not necessarily a winner. Sixth is not bad, but not really what we wanted. We were hoping for a win. Hopefully, we can get better at Summit."

Photos by
Copyright &copy 2009 by Russell Jaslow and American Driver Ranking. All Rights Reserved.