Watkins Glen Coverage:
Day Two
Hildebrand Leapfrogs to Indy Lights Win
Watkins Glen, N.Y., July 4 — Perhaps it's fitting with only five American drivers in Firestone Indy Lights, one of them wins on the 4th of July. Perhaps it's also fitting that driver started fourth.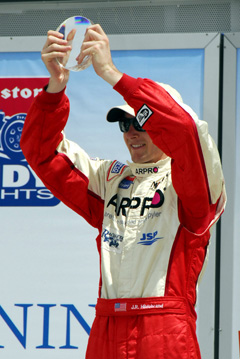 <!p class='regcaption'>J.R. Hildebrand celebrates his Indy Lights victory on the 4th of July.<!/P>
Convincing Run. J.R. Hildebrand (ranked first in the American Driver Ranking) had something to prove on Saturday. After jumping to the top of the timing sheets during qualifying his improvement slowed down, dropping him to fourth on the starting grid. For the race, he made sure he got stronger as the laps clicked by.
"I knew we had a strong car going into this race," Hildebrand said.
After settling into fourth place at the start and seeing polesitter James Davison open a slight lead, Hildebrand quickly went to work. He passed James Hinchcliffe on the fourth lap for third. Hildebrand immediately caught up to the lead duo which now consisted of his teammate Sebastian Saavedra right on Davison's tail.
After the first full course yellow, Hildebrand immediately went to work on his teammate, going side by side through the Inner Loop. The American finally made the pass stick, taking over second. Next in his sites -- leader Davison.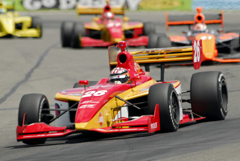 <!p class='regcaption'>J.R. Hildebrand took over the lead on lap 14 and never looked back for his third career Indy Lights victory, second of the season, extending his points lead.<!/P>
Hildebrand grabbed that lead on the 14th lap by once again outbraking his opposition going into the Inner Loop. Afterwards, in case there was any doubt, Hildebrand pulled away from the field. Two more full course yellows did not stymie Hildebrand, including a restart on the very last lap. Hildebrand's car was dialed in, and he was not going to be denied.
"We were sitting there thinking, 'We cannot accept defeat today,'" Hildebrand said. "It's America's birthday. I can't be more happy with it."
Behind Hildebrand, Charlie Kimball fell back a position at the start to sixth, gained fifth when Hinchcliffe crashed out, where he sat most of the rest of the race. Until the last lap restart when he got the better of a fading Saavedra. However, not before Saavedra pulled a blatant, unsporting block, banging wheels with Kimball. Kimball survived to take fourth as Saavedra was penalized 30 seconds afterwards, dropping him to 18th.
"We had a good car all weekend," Kimball said. "It wasn't until the toe of the Boot on the last lap that we picked up fourth position. We ran 29½ laps in sixth and fifth and then picked it up right at the end."
As for the other Americans, Daniel Herrington finished sixth, Mike Potekhen 10th, and Andrew Prendeville 13th.
Not So Fast. Just when you thought Chris Miller (ranked 9th) would dominate the F2000 Championship Series weekend, Matthew Inge (ranked 11th) said just wait a minute. Miller grabbed the pole, broke the track record, and won the first race, but in qualifying for the second race, Inge took the lap record in his possession for the pole.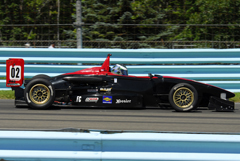 <!p class='regcaption'>Matthew Inge came back from a disappointing race on Friday to claim pole for the Sunday race.<!/P>
"I learned from my mistakes yesterday," Inge said after a 1:53.015 record lap around the historic circuit.
Miller will line up next to Inge, with Canadian Remy Audette in third, followed by Jonathon Scarallo, Al Guibord, Jr., and Phil Lombardi. Benjamin Searcy (ranked 13th) who missed the first race with a bad crash in qualifying got his car fixed, but could only muster a ninth starting spot.
After yesterday's crashfest and many top drivers in the standings losing out on points, there will be a lot of incentive to keep Sunday's race clean. Then again, being the only supporting race on the biggest day of their biggest headline event may once again cause an epidemic of red mist. In either case, if you plan on going, get there early and don't miss the 11:00 A.M. start.

Photos by
Copyright &copy 2009 by Russell Jaslow and American Driver Ranking. All Rights Reserved.