Lime Rock Coverage:
Day Two, Part Three
Chaves Settles For Second in Second FBMW Race
Lime Rock, Conn., July 18 — Before the second Formula BMW Americas race at Lime Rock Park took place, everyone figured it would be a battle amongst the top four between pole sitter Alex Ellis, race one winner Gabby Chaves, Gianmarco Raimondo who fought hard with Chaves, and points leader Giancarlo Vilarinho. Nobody expected fifth starter James Kovacic from Australia to come out of nowhere with a rocket ship of a car and fly through the field to take his first win.
Thus, Gabby Chaves (7th in the American Driver Ranking), after fighting hard with his competitors, was unable to repeat and had to settle for second place.
"I would have liked to have a double win, but James was another car out there," Chaves said. "I tried to hold him off, but he was something else out there. So, I tried to get as many points as I could."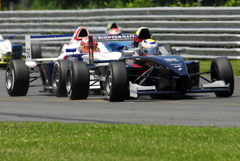 <!p class='regcaption'>Gabby Chaves finished second in the second race. Combined with the victory earlier in the day, Chaves is now the new points leader.<!/P>
The standing start was clean. Chaves moved over to the right to protect his spot and tucked in behind Ellis. Ellis was able to open a gap while Chaves' nemesis, Raimondo, hounded the dual American, Columbian citizen. Chaves made it very difficult for the Canadian, almost to the point of crossing the threshold into blatant blocking.
"I knew Gabby wasn't going to leave the door open like I did last race," Raimondo said. "It was really good racing."
Meanwhile, Kovacic was on the move. He gained a spot on the start, and while Raimondo was busy trying to find a way around Chaves, Kovacic passed Raimondo going into Big Bend. The next lap, Kovacic blew past Chaves, this time on the outside of Big Bend. His car was obviously hooked up.
"I don't know what I did to it, but it worked beautifully," Kovacic said.
Then, the leader, Ellis, did a favor for everyone by spinning. Kovacic took over the lead, pulling away from the field with ease. Chaves and Raimondo resumed their fight, again for second now that Ellis was out. Raimondo tried once around the outside of Big Bend, but Chaves held him off.
A late crash by Robert Garcia, which placed the American in 11th, could not be cleaned up in time, resulting in a finish under the yellow.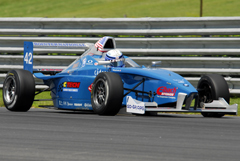 <!p class='regcaption'>Michael Lewis headed into Lime Rock with high hopes. He left disgruntled, crashing out and being excluded from the first race and finishing sixth in the second race.<!/P>
Michael Lewis was the next highest placing American, but it was not a weekend to remember. After crashing out of the first race and then being excluded from the results, it did not appear his car was back to normal for the second race. He drifted back from his sixth starting spot, but wound up returning to sixth at the end. Barrett Mertins finished ninth, one spot ahead of Ellis who kept his damaged car in the race and on the lead lap.
Overall, Chaves had a productive weekend with his first and second. More importantly, the points leader coming into the weekend, Vilarinho, only managed an eighth and fifth. This allowed Chaves to walk away from the weekend the new points leader. The series heads to Road America for a tripleheader on August 14-16.

Photos by
Copyright &copy 2009 by Russell Jaslow and American Driver Ranking. All Rights Reserved.