Lime Rock Coverage:
Day Two, Part Two
Hard Charger Edwards Takes An Atlantic Second
Lime Rock, Conn., July 18 — The top Americans in the Cooper Tires presents the Atlantic Championship powered by Mazda occupied the third row for the start of the Lime Rock Park round due to a wet and unpredictable qualifying session on Friday. However, with a dry track and sunny skies, John Edwards (3rd in the American Driver Ranking) went from fifth to second and Jonathan Summerton (ranked 2nd) went from sixth to fourth. Edwards was awarded the Hard Charger $2,000 bonus.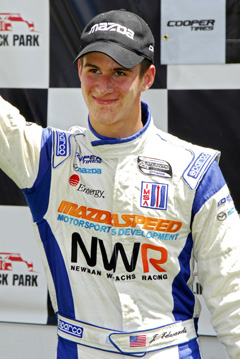 <!p class='regcaption'>John Edwards moved up three spots in the Atlantic race to take second place and the Hard Charger Award.<!/P>
"I got the Hard Charger, and I don't think I've ever had to work so hard to finish second in my life," Edwards said. "It was really a hard-earned podium finish, because we didn't have a good qualifying. I was really trying to come from behind in the race."
The standing start was straight forward, and the field immediately strung out. Edwards started gaining on fourth place while Simona De Silvestro was checking out. Markus Niemala, who started fourth, pitted early, moving everyone up a position.
Edwards was now fighting for third, closing up on Frederic Vervisch. Meanwhile, Jonathan Summerton and Tonis Kasemets closed up behind Edwards as Vervisch appeared to be holding up that pack. Edwards finally got by Vervisch for third, and set his sights on Borja Garcia, who by now was nearly a straightaway ahead.
"Unfortunately, we just had a lot of traffic in the beginning that I had to get by," Edwards said.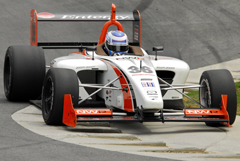 <!p class='regcaption'>John Edwards is tied for second in the points with his teammate.<!/P>
However, Edwards was able to slowly close the gap, and then a mistake allowed Edwards to eliminate the difference. Edwards made the pass in the back part of the track and easily pulled away from Garcia. De Silvestro was ten seconds ahead by now, but that didn't stop Edwards from trying.
"Once I got clean air and up to second, I was able to run the same speed as Simona and I think I got fast lap in the race [a 0:50.928]," Edwards said. "At least we know that the car is good and we didn't lose 10 seconds to Simona. It's too bad that the person we're fighting most in the championship won the race, but we know we're on pace with her now. It's only halfway in the season. We've still got a lot left to go."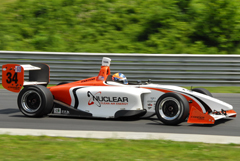 <!p class='regcaption'>Jonathan Summerton moved up enough, claiming fourth, to be in a tie for second place in the standings.<!/P>
Meanwhile, Summerton had gotten by Vervisch while still being chased by Kasemets. It was Summerton's turn to try and close the large gap to Garcia. Traffic helped, and Summerton was able to force Garcia to worry about his mirrors while Kasemets kept Summerton honest. On the last lap Summerton closed in on Garcia as Kasemets lost time. However, Summerton was unable to find a way around.
"Well, we're headed in the right direction and that's the biggest thing," Summerton said. "We knew the race today would be a challenge, starting as far back as we did. It is game on from here on out. The season is only halfway done and there is still a lot of racing ahead of us. The Championship is still within our reach and we're going after it."
Edwards and Summerton are now tied for second in the points standings, each with a victory, 12 points behind De Silvestro. The next race for the Newman Wachs Racing teammates is a home race for the team, a doubleheader at Autobahn in Joliet, Illinois this coming weekend.
The other young Americans in the race did not fare well. Matt Lee, making his return to the series by hooking up with Conquest Racing and JOJO Energy Drink, lasted just one lap. Frankie Muniz took the checkered flag, albeit three laps down thanks to a crunched nose.

Photos by
Copyright &copy 2009 by Russell Jaslow and American Driver Ranking. All Rights Reserved.