Long Beach Coverage:
Day Three
JR Hildebrand Wins Flag to Flag at Long Beach
Long Beach, Calif., April 19 — JR Hildebrand created some of his own luck yesterday by taking the pole for Sunday's race. But, in spite of some problems on lap 2, the Sausalito, Calif. native was never out of control during the race that marked the return of the Firestone Indy Lights series to the Toyota Grand Prix of Long Beach. Although he is officially shown winning by over a second, in reality, his lead over the other 24 drivers was often 5 seconds or more, eons by racing standards.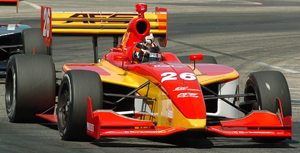 "We just had a great car, and the ARPRO guys have just done a great job all weekend. We had a great car at St. Petersburg, but we had some mechanicals going on, or we could have been just as good there."
Hildebrand leaves Long Beach just seven points behind championship leader Junior Strous, who did his version of Long Beach on track barbeque by having his car catch fire, also on lap two. Fortunately, the Dutchman failed to self-immolate and will be back in competition at Kansas City.
While Hildebrand was never challenged for the lead, the race was not without excitement. On lap 24, American racer Charlie Kimbell's engine stalled after a spin, and Monterey's Jonathan Bomarito retired due to mechanical issues. And, second place was taken from Hinchcliffe on lap one by a hard charging Richard Philippe. Thus, the podium consisted of Hildebrand, Philippe, and Hinchcliffe.
The second best American finisher was Jonathan Summerton in fourth place, and is second in points. Next was Daniel Herrington in 10th - now fifth in the points.
JR noted that his first FIL victory was in Kansas City, and so is looking forward to the next race.

Photo by
Copyright &copy 2009 by Lisa Davidson and American Driver Ranking. All Rights Reserved.