Book Review
by Russell Jaslow

Velocity: Heroes of American Racing Calendar 2015

by Pete Lyons
Octane Press
ISBN: 978-1937747404. List Price: $29.99.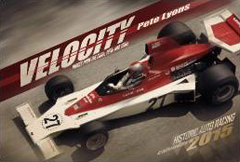 Pete Lyons lived a life many of us envy. He was the epitome of a track bum. We say that with the utmost respect. Better yet, he was paid to be a track bum. During his carefree, youthful days, he traveled around Europe and North America, camped out at race tracks, and wrote and photographed the events for Competition Press and later Autoweek, Racecar, Autosport, and others.
To make you turn even greener, he was there, and I mean there, during the golden age of the Can-Am series, so much so, that his name is just as synonymous with the great ground pounding, fire breathing series as any participant. If that doesn't make you jealous enough, his father, Ozzie, was a race photographer for Autosport.
We don't really envy Lyons ... at least not in a hateful way ... because his writing and photography was so good, we were allowed to live vicariously through him. Nowadays, he continues to share his knowledge, experiences, and photo collections as a columnist for Vintage Racecar Journal, through his books, especially about the Can-Am, and calendars, displaying his photography.
His original calendars were, not surprisingly, all about the Can-Am. However, for his 2015 edition, he decided to go in a different direction with Velocity: Heroes of American Racing, displaying not only his photos but some of his father's as well.
The calendar starts out perfectly for the American racing fan with January's photo of Mario Andretti driving the Vel's Parnelli Jones VPJ4-Ford Cosworth Formula 1 entry at Monaco in 1975. From there, Lyons presents a different American racing hero, though not all necessarily Americans. Some foreigners who made a mark in America, like Graham Hill winning three consecutive USGPs, are also highlighted.
Nearly half the prime photos are F1 cars while also including sports cars, prototypes, sports racers, Can-Am and Trans Am cars. Tracks include the vaunted Monaco, the defunct Bridgehampton, the traditional Sebring, and everything in between. Drivers come from all disciplines of racing, though in those days, many drivers drove in all disciplines of racing. Naturally, the timeframe covered is the same which Lyons covered being a journalistic track bum.
Each month Lyons writes a few paragraphs describing the driver, his accomplishments, and impact on American racing as well as a mini photo of the driver. It comes in the large 17" x 11-1/2" format to properly show the feature photo in all its glory.
It is generally accepted that the annual Autocourse calendars are the best in the business. However, you will probably not generate much of an argument if you claim Pete Lyons' calendars, for this year Velocity, are worthy equals.
Lyons may have lived a life which makes us all envious. But, we're sure glad he was willing to share it with the rest of us racing fanatics.
Copyright © 2014 by . All Rights Reserved.