Book Review
by Russell Jaslow

Unraced...
Formula One's Lost Cars

by Sam Collins
Veloce Publishing
ISBN: 9781845840846. List Price: $49.95.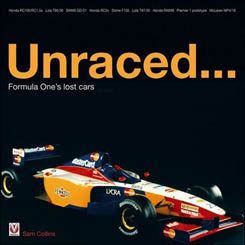 If a Formula 1 car was built and raced, chances are it is documented in detail in some book or website. Technical specifications, designers, the drivers who raced it, complete qualifying and race records. Everything you wanted to know about that car can be found somewhere.
But, what about those Grand Prix cars that were built but never raced? They fall through the historical record keeping cracks. Sam Collins saves some of those cars from obscurity in his Unraced...: Formula One's Lost Cars. Collins only looks at the three-liter era that came about amidst the rules turmoil after the deaths of Roland Ratzenberger and Ayrton Senna in 1994. Drastic changes in the name of safety such as engine displacement, aerodynamics, and downforce caused a number of cars to be built, but never raced.
Whether you enjoy this book will depend on your expectations. If you are one who enjoys a complete technical description of every car right down to the weight of every nut and bolt, you will be disappointed. It is surprising that a writer for Racecar Engineering doesn't get technical in this book. However, discovering that some of these cars actually existed was hard enough, never mind getting the specifications of them, which in some cases was downright impossible, especially when some manufacturers don't even acknowledge these cars exist.
However, if you enjoy a tale, sometimes a mysterious one, about success and failure, this book is for you. Collins delves into the background of six aborted designs: DAMS GD-01, Dome F105, Lola, Honda RC2x, Toyota TF101, and McLaren MP4/18. It also talks about the Premier 1 Grand Prix prototype, the marketing exercise of forming a grand prix series linked with top soccer clubs, a concept that appears to have been resurrected. He concludes with a chapter on interim cars, test beds that were never made to race. It's a concise book of just over 100 pages, with many photos.
The reasons for the "failures" are as diverse as the cars themselves. Some were caught out by the rapidly changing rules. Others fell prey to racing's age old nemesis -- not enough money. There were those who had high hopes of sponsors coming through at the last minute. Then there were the cases of simply lousy design.
With the exception of the Lola, none of the cars made it to a race weekend. The Lola did attempt to qualify at the 1997 season opener in Australia, but was eleven seconds off the pace. Yes, that's eleven seconds, a time more apt for F3000, the F1 support series at the time. Overall, it was a disaster for Lola, sinking the company into virtual receivership.
There are two very interesting quotes in the book that are very telling of some of today's F1 teams. Lola founder Eric Broadley said, "...our experiences ... convinced us that we had to be in complete control of the program. It is impossible to succeed without being self-contained." Toyota Motorsport President Ove Andersson said, "A big checkbook alone does not win races. There are recent examples of that."
Hmm. I can't help but think of the current Honda and Toyota teams when I look at those two quotes.
Unraced... may be lacking in some technical details and a bit light in content, but I found it an interesting read that gave proper credit to those cars and efforts that at least deserved some mention within the history of Grand Prix design.
However, it makes me wonder about any other unraced cars from different eras of F1. Maybe Sam Collins can fill us in on those someday...
Copyright © 2007 by . All Rights Reserved.