Book Review
by Russell Jaslow

Motor Racing: The Pursuit of Victory 1930-1962

by Anthony Carter
Veloce Publishing
ISBN: 978-1-84584-279-6. List Price: $59.95.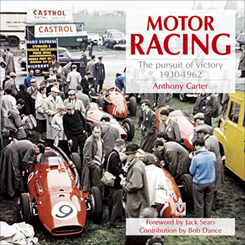 After he retired from the insurance industry, Anthony Carter took the many photos he shot since his childhood and put them together in his first book, Motor Racing - Reflections of a Lost Era
. It was an instant hit.
Thankfully, Carter is at it again with Motor Racing - The Pursuit of Victory 1930-1962. This time, he gets some help with photos from the Reggie Tongue Photographic Archive and an inside account, as well as photos, from Lotus mechanic Bob Dance.
As soon as I read two sentences, maybe not even that long, I knew I was in for a treat. Not only is Carter's writing superb, but his depiction of the various eras of racing are sometimes better than what a photo can tell. His explanations of how each time period fit into the overall political situation in the sport and the world are highly informative.
The photos are a window into a world which was usually only seen through the camera lens. Outside of the spectators and the occasional rare footage, people did not see racing in motion on the TV or Internet. It was still photography which captured the moments.
Carter starts out with the 1930s forever linked with the dominating, monster German grand prix cars of Mercedes and Auto Union. He then picks up after the war and like any good Englishman, devotes a whole section on the attempted pride and joy of BRM. He rightfully titles that chapter, "A glorious failure."
The story of BRM has been told many times before, so in that sense, Carter does not add anything new historically speaking. However, he presents a nice concise history with a storytelling quality which makes it enjoyable to revisit or for those new to the subject, a nice introduction.
Then, the author hands off to Bob Dance to talk about the 1950s through his eyes and camera from the Lotus garage. Dance provides us wonderful insights into Colin Chapman, Jim Clark, Graham Hill, and all the projects on both sides of the pond which Lotus were involved in.
This book contains the periods of racing before television and sponsors dominated the scene, when many followed the sport from "afar." A period which saw unlimited development and expenses followed by austere measures and ending with technological and aerodynamic advances.
For me personally, I can never get enough of this period of racing. If you're like me, you will fully enjoy this work, the photos, the text, and most importantly, the enthusiasm of Anthony Carter which pops out of the pages.
There were so many photos to choose from, the publisher decided to allow Carter to produce two books. Thus, Carter teamed up with Steve Wyatt and Jack Sears to produce Motor Racing - The Pursuit of Victory 1963-1972
, coming soon. Lucky us!
Copyright © 2012 by . All Rights Reserved.