Book Review
by Russell Jaslow

Mario Andretti, The Complete Record
by Mike O'Leary
One may be inclined to ask, do we really need another book on Mario Andretti? Well, that would be like asking, did Mario Andretti really need another win?
When talking about what many consider to be the greatest American driver in the 20th century, you can never have enough books to chronicle his life and career. Just like Mario could never have enough victories. Especially when the book is as good as Mario Andretti, The Complete Record and fills a niche that has been missing on the bookshelf.
Mike O'Leary takes us through the career of Mario, literally race by race, in a statistical compilation that has never been done before in such detail. Every race from 1964 to his retirement is listed with the date, event, track, qualifying position, finishing position, entrant, car, number, track type, sanctioning body and division, race distance, the number of laps Mario completed, the race winner, and comments. In short, an Andretti fan's statistical dream.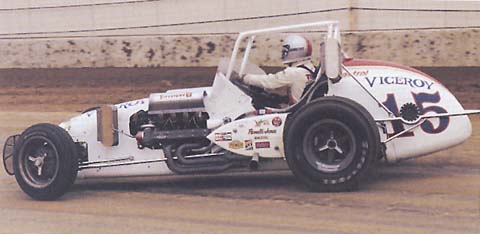 Mario Andretti was quite comfortable on dirt. Here, he manhandles a Parnelli Jones Ford-powered Grant King Silver Crown car during the Hoosier Hundred in 1973. Ken Coles
First, the author provides these records on a year by year basis. This makes up the meat of the book. Then, the stats are organized by the three main areas of Mario's career -- Indy, Formula One, and Champ Cars. An excellent approach for one who may need to do research on Mario Andretti. Each year is also accompanied with a brief explanation of what occurred in his career. A quote is also provided, and that alone sometimes explains more than pages of text could.
The text is sparse, but that's the point of the project. If you are looking for a literate exposition of Mario's life, refer to such books like the one Gordon Kirby wrote. However, when your room is full of such books, you will find that combined collection still does not provide you with the statistical record this book contains.
One interesting aspect I found with this approach is when you read the book, you move through Mario's career very quickly. In so doing, you discover that Mario's rise to fame was relatively quick, as well as his move from the small dirt ovals to Formula One. Mario's pivotal year was 1964 (after he started racing in 1959 when he and his brother, Aldo, brought a 1948 Hudson Hornet to the local dirt track in Nazareth, PA, and then drove in various stock car and midget events), and was in a Formula One car in 1968 at the Italian Grand Prix, where he qualified seventh, but was not allowed to start due to political reasons. The first F1 start that many people refer to was the USGP at Watkins Glen later that year when he won the pole. The following year, he won the Indy 500. A fast progression, indeed.
Then, there is the icing on the cake -- the photographs. The book is generously populated with black & white and color photos covering his entire career -- from the time he raced midgets owned by the Matakas in 1962 to his Le Mans effort driving a Panoz in 2000. Four of them are included right here.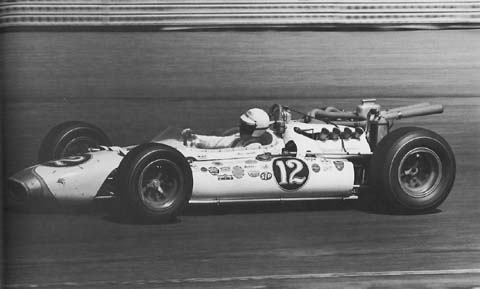 Mario competes at Trenton Speedway in a Dean Van Lines Brawner-Hawk in the 1965 USAC national championship. Mario won the championship in his rookie year, an achievement not accomplished since 1949 when Johnnie Parsons did it. Ken Coles
Like any book chock full of statistics, there are bound to be some mistakes or disagreements. For instance, the author refers to Shangri-La Speedway (now known as Tioga Speedway) as being in Oswego, NY, when it is actually in Owego, NY. Also, I do not agree with his decision to not count DNF's when figuring average finish. His explanation is that the official records do not list a position when you DNF, especially road course events. However, if you have the race results, you can easily figure out what position a DNF translates to. By ignoring DNF events, you skew the average finish to a number better than it should be.
However, O'Leary does explain exactly how he interprets this data, and since the raw data is all there right in front of you, it allows you to come up with your own interpretations as you see fit. And quite frankly, I had to really stretch to find any errors in the book, so I am not concerned with the reputation of the information.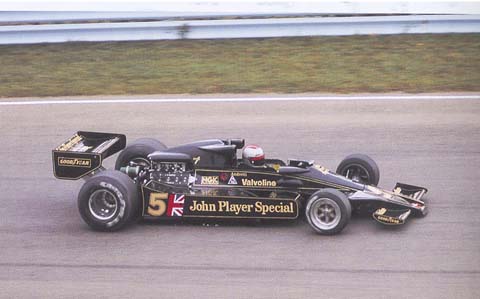 One of my personal all time favorite Grand Prix cars -- the black JPS Lotus. Here, Mario competes in the 1977 USGP at Watkins Glen with the Lotus 78. The following year, Mario won the World Driving Championship. Ken Coles
Mario Andretti won the National Championship 4 times, the World Driving Championship once, a USAC Silver Crown title, the Indy 500, the Daytona 500, the 12 Hours of Sebring, and Pikes Peak. He won 12 Grands Prix and took a Formula One pole position 18 times. He grabbed the checkered flag 52 times in national championship races, won a record 67 pole positions, and led a record 7,587 laps. He felt just as much at home on a 1/4-mile dirt oval as he did on the streets of Monte Carlo. He is the only driver to be named Driver of the Year in three different decades (1967, 1978, and 1984) and is enshrined in four Halls of Fame (International Motorsports Hall of Fame, Motorsports Hall of Fame of America, Indianapolis Motor Speedway Hall of Fame, and National Sprint Car Hall of Fame).
Yet, never has all that been captured step by step. Until now.
Thanks to Mario Andretti, The Complete Record.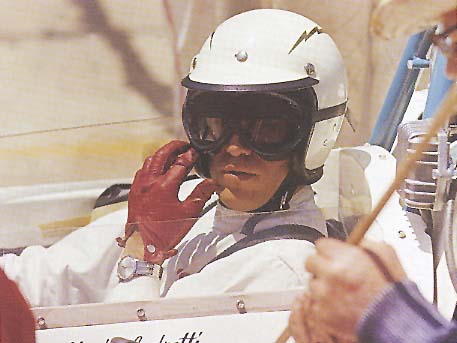 Mario preparing to go out for a run at Indy in 1965. He finished third and was named Rookie of the year. Ken Coles
Copyright © 2002 by . All Rights Reserved.
All photos courtesy of <!A HREF="">Ken Coles<!/A>.