Book Review
by Doug Stokes

Where They Raced - LAP2
by
The original Where They Raced, published in 1996, was a revelation. The hotbed-grown-cold southern California racing scene was brought back to life again as one careened through 64 pages of photos, charts, and historic information that first time author Harold Osmer had put together in a bright, yet scholarly way.
What started out as a Masterís thesis in geography, prompted by the pending construction of California Speedway, became an instant classic -- the turned-to text on the subject of the long and not-so-long gone racing facilities of southern California.
Where They Raced aptly pointed out over 100 venues where motor racing took place in the area from the very dawn of the motorcar through 1990 (the year that Ascot closed). Osmerís research was excellent and the first book sold over 3,500 copies. But wait, as the pitchman says, thereís more (to this self-published success story). Every time that the writer met the public (and that was almost daily) he gathered more information about other venues that had been used for motor sport activities in southern California.
Osmer also learned that he had perhaps not paid enough attention to the drag racing phenomenon that had sprung from this very area as well. He also had booksellers asking him when his publisher was going to ship them more books to sell.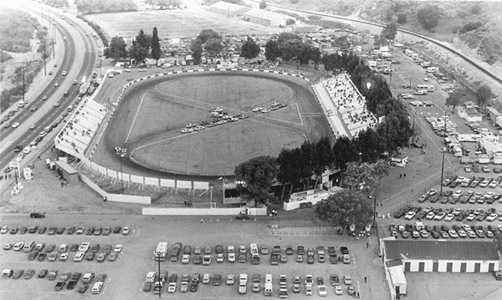 Saugus Speedway: 1/3-mile flat surface finally gave way to other uses in 1995 after 50 years of racing action.
Four years after the publication of the first volume, Osmer has given us what we were all waiting and hoping for: Where They Raced - LAP2. Leaving the first book completely intact, Osmer lovingly adds 80 new pages and 127 new (some never published before) photos. He also now covers Ventura, Bakersfield and San Diego area tracks. In all, historic details about more than 70 additional venues are added to this list of honor along with expanded coverage of the regionís drag racing scene.
Now a double volume, the book is a treasure trove of information about the whys and wherefores of racing tracks as well as their creators and operators. Saints, con-men, visionaries, land speculators, promoters, fast-buck guys, fans, fanatics, car builders, car nuts, nut cases, and racers -- all playing their parts in the crazy quilt pattern of southern California motorsports facilities.
In Osmerís own words: "More auto racing has taken place in southern California than any other equal-area region of the world. Through nearly 100 years at over 170 sites, southern Californiaís auto racing heritage remains entirely created, financed, and perpetuated by private individuals." Youíll make the acquaintance of several of them in this volume.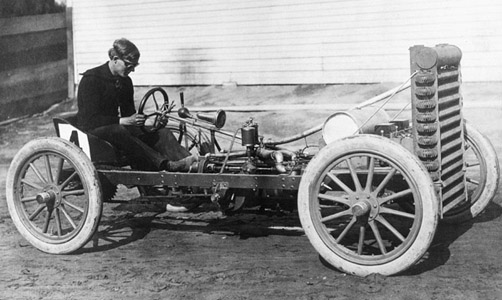 1902: Waldemar Grant Hansen at the wheel of his own creation. Hansen raced this vehicle at Agricultural Park, later site of LA Coliseum.
This is truly a special motoring book, crafted with both enthusiasm and intelligence. It may also be read as something of a cautionary tale, as it lists many of the foibles and fractures that led to the untimely demise of many a fabled raceway. Projects that sang to the sky or stank to high heaven -- theyíre all there in Where They Raced - LAP2 for your laughing and weeping pleasure. Learning from history seems to be one of mankindís lesser skills -- hopefully all of the recently added motorsports facilities in the area are not all condemned to repeat it.
The original book was priced at a modest $24.95, and what will Mr. Osmer charge you for a book that more than doubles the size of the original? $24.95. Proving that Osmer is not only a worthy motorsports historian but a sport as well. The first book was a good deal at the price and LAP2 is a bona fide bargain. My suggestion is that you buy at least two at these prices, so you still have a copy when your brother-in-law inevitably forgets to return the first one.
Doug Stokes is the Director of Communications at Irwindale Speedway, a Ĺ-mile paved oval track that opened near Los Angeles in early 1999. Prior to that Stokes worked as a senior PR person on the first Los Angeles (Vintage) Grand Prix. Stokes was also the first PR Manager for Perris Auto Speedway. "I guess that Iíve been involved in a bit of history too working for both of southern Californiaís newest Ĺ-mile tracks. But I really miss Riverside and Ascot. Jerry Titus signed my SCCA road racing license off at Riverside and I actually raced a go-kart at Agoura."
Copyright © 2000 by . All Rights Reserved.
All photos courtesy of .