Oldest Living NASCAR Champion Writes Memoir
by Anne B. Jones

Gold Thunder
by Rex White

Rex White, the 1960 NASCAR Grand National Champion and Driver of the Year, has written a memoir. He is the oldest living driver amongst the Top Fifty Greatest as named by NASCAR.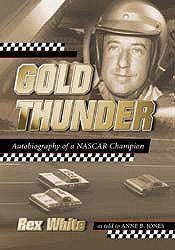 "People want to know about racing's changes," he says. "They want to know how it all came about and what made it what it is today. Fans are always asking me questions about the past. I decided the best thing to do was get it all down."
Gold Thunder: Autobiography of a NASCAR Champion, released by McFarland Publishers, describes his personal and career experiences against a backdrop of the history of NASCAR. Its title comes from the paint job on his gold and white #4 Chevrolet.
"We wanted a nice shiny gold," says White, "so my mechanic, Louie Clements, made a mixture of clear enamel and gold dust. That car was magic. My 1962 Atlanta Motor Speedway win was the only super speedway victory by a driver with a 409 engine."
In the 1950s, Chevrolet fans prayed for a savior and Rex White answered, winning more races than any other NASCAR driver from 1959-1963. Challenging a tough lineup of competitors, he raced against Lee and Richard Petty, Ned Jarrett, Junior Johnson, Fireball Roberts and other well-known racing personalities. Referred to as Chevrolet's best driver in the late fifties and early sixties, he is also known as the most consistent.
Gold Thunder tells of White's struggle to overcome a poverty-ridden childhood and a physical disability to become a champion. In the book's Foreword, Rick Minter, sportswriter for the Atlanta Constitution, writes: "The way he performed in his era, the way he left the sport, and the way he was able to build another life outside of racing, make him forever a winner, forever a champion, forever a hero."
The book's firsthand account of the early days of stock car racing is based on over 2000 hours of interviews with Rex White by author Anne B. Jones. Included are tales by participants and fans interlaced with anecdotes about a virtual Who's Who of NASCAR. The work contains a wide variety of illustrations, including photographs from White's private collection.