Book Review
by Russell Jaslow

Fiat in Motorsport Since 1899


by Tony Bagnall
Veloce Publishing
ISBN: 978-1-787111-85-1. List Price: $50.00.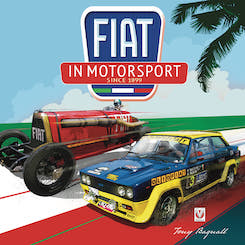 As a pre-war auto racing aficionado, especially the Vanderbilt Cup, I was always aware of Fiat's early history in racing, culminating from a personal viewpoint with their 1911 U.S. Grand Prize victory by David Bruce-Brown.
Afterwards, however, my knowledge of the Italian firm's racing history is a bit murky, other than knowing a little about their rally success in the 1970s to early 80s. It appeared many others felt the same way. Even Tony Bagnall states a similar feeling in the Forward to his new book Fiat in Motorsports Since 1899.
Lucky for us, Bagnall did the extensive research to fill in the gaps we all had while also delving into the well known parts of their past. Fiat may not have the rich racing history other European marques possess, such as Alfa Romeo, Mercedes, and Jaguar, but it is more extensive than many realize. For instance, their early involvement in Formula Junior helped get that all important early training class off the ground.
Bagnall had access to the Centro Storico Fiat (Fiat Museum) in Turin, which provided him with rare and all important documentation and photos. The pre-war photos in the book are worth the price of admission alone.
Though the book is unsurprisingly presented in textbook fashion, Bagnall's writing style more than passes the test to keep the reader interested in the subject. He does a good job presenting the car, race, and driver details without getting bogged down.
The book wraps up with two short appendices presenting technical details and competition results. Though the latter, as well as some information in the text (such as referring to Ralph Mulford as Brian and putting Briarcliff in a fictional New York county), contains some silly errors. The bane of unfortunate leaks in fact checking.
Fiat in Motorsport Since 1899 is now the well earned missing piece of your racing history library for this marque's competition heritage.
Copyright © 2022 by . All Rights Reserved.