Book Review
by Russell Jaslow

Faster


by Neal Bascomb
Houghton Mifflin Harcourt
ISBN: 978-1-328-48987-6. List Price: $28.00.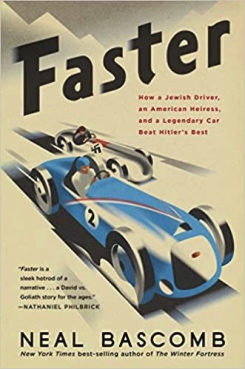 Imagine yourself, a writer, trying to pitch an idea for a book. You enter a publisher's office, and just your luck, the publisher knows a little about racing history. Problem is, he knows just enough to be dangerous.
"I got a great idea for a book. I want to write about an underdog team beating the mighty Silver Arrows of the 1930s."
"Oh, you mean the Tazio Nuvolari upset in an Alfa Romeo at the 1935 German Grand Prix at the mighty Nürburgring? Great idea."
"No. René Dreyfus in 1938."
"Dreyfus was washed up by then. And wasn't he Jewish? Who would have signed him to drive their car during those times?"
"With a team owned by an American woman, Lucy Schell."
"Now you are getting ridiculous. I can count on one hand the number of Americans who made a major impact on Grand Prix racing, and certainly none of them from the 1930s, least of all a woman."
"In a French car."
"In the late 1930s? They weren't even competitive anymore. Not even Bugatti. Was it Renault? Citroën? Peugeot?"
"Delahaye."
"Dela...Dela...what?!"
"Delahaye."
"Besides, we're talking the Silver Arrows of Mercedes and Auto Union, perhaps the most powerful Grand Prix teams in history. They were backed by Hitler himself with funds that relatively speaking may even eclipse the F1 factory teams of today with massive crews and all the backup equipment and the best engineering support of the day with the most superb drivers of that era. And, you're trying to tell me they were beaten by a Dela...Dela—?"
"Delahaye."
"I heard enough. Stop wasting my time and get out of my office. Take your harebrained idea to some other sucker."
Luckily for us, Neal Bascomb wrote that story. He didn't need to make anything up. Because all of it is true.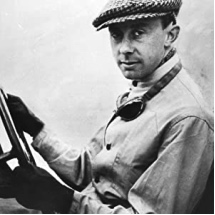 <!p class='regcaption'>

René Dreyfus

<!/P>

Faster tells the tale of "how a Jewish driver, an American heiress, and a legendary car beat Hitler's best." It's a story not many people know about and certainly not in detail. A shame it's been unknown for so long, but Bascomb corrects that.

The Nazis tried to erase that portion of history. One of the first things they did after invading France—in their numerous attempts to control and rewrite history—was to steal all the race files from the Automobile Club de France (ACF). They were never recovered. They even went looking for the car with the most likely goal to destroy it. Luckily, they never found it.

Bascomb was able to resurrect this piece of history through painstaking research which included traveling the world, digging through private collections, walking the race courses, even those which no longer exist, listening to old interviews, and actually getting to ride in a Delahaye 145.

He tells the story in a narrative-nonfiction style (including 42 pages of research notes and nine pages of sources) with all the triumphs and tragedies, and does it well enough to make this a page turner, immersing the reader in the action. He properly wraps the racing stories into the foreboding times of the rise of Fascism throughout Europe and Nazi Germany. (It is no surprise Bascomb is familiar with the latter subject as he also wrote Hunting Eichmann, The Winter Fortress, and The Nazi Hunters.)

It's laid out as a three-act play. The characters are introduced, including the supporting roles such as drivers Tazio Nuvolari, Rudolf Caracciola, Jean-Pierre Wimille, Louis Chiron, Hans Stuck, Bernd Rosemeyer, Manfred von Brauchitsch, and their girlfriends and wives. As well as the engineers and designers (Jean François, Ferdinand Porsche), and team principals (Ettore Bugatti, Alfred Neubauer, Enzo Ferrari, Charles Weiffenbach). And of course the cars which have their own personalities. Even the race tracks are characters onto themselves.

The scenes leading up to the climax are then set. Followed by the ultimate reason the book was written. All in an entertaining yet educational read with the proper historical context.

Throughout history, sports has had many upsets, David vs. Goliaths, outstanding achievements, and riveting rivalries. However, only occasionally does a sport moment, thanks to the pairing of current events, rise to the level as a popular, uplifting cultural moment. Jesse Owens in the 1936 Olympics. Fischer vs. Spassky. The Miracle on Ice. South Africa's Rugby World Cup.

Faster tells another one of those special sports moments which briefly became a cultural icon, then quickly faded due to being overrun by world events of greater concern. Thanks to Neal Bascomb, this racing moment in all its significance and glory has been resurrected.

Copyright © 2020 by . All Rights Reserved.