Book Review
by Russell Jaslow

Formula 5000 Motor Racing - Back Then ... And Back Now

by Derek Lawson
Veloce Publishing
ISBN: 978-1-84584-216-1. List Price: $79.95.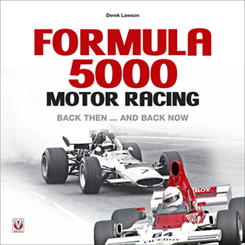 Everything about Formula 5000 was big. Big, fat rear tires. Big American V8 engines. Big wings. Yes, everything about Formula 5000 was big ... except the racing series.
Though the American F5000 series had some big names (Brian Redman, David Hobbs, Mario Andretti, Jody Scheckter) and big teams (AAR, Dick Smothers, Parnelli Jones Racing, Hogan Racing) and big chassis makers (Lotus, McLaren, Eagle, Lola) and big engine manufacturers (Chevrolet, Ford) running on the top North American tracks, it never caught on, lasting only 10 years, replaced by the redux but faux Can-Am series.
There was also a European F5000 professional series, which may come as a surprise to many American racing fans. It ran from 1969 through 1976. It too had a Who's Who of racers (Peter Gethin, Mike Hailwood, Hobbs, Frank Gardner, Graham McRae, Teddy Pilette, Redman, Brett Lunger, Lella Lombardi, Vern Schuppan, Alan Jones), known chassis makers (McLaren, Surtees, Lola, Chevron, Brabham, March), and engines (Chevrolet, Ford, Oldsmobile), running on top European tracks.
The history of this European F5000 series has been captured for the first time by Derek Lawson in his new Formula 5000 Motor Racing - Back Then ... And Back Now. Lawson goes through the details of each race and each championship in enough detail to provide a newspaper-like account without getting bogged down in the minutia to bore you.
Though he provides the first real thorough account on this topic as a whole and his writing style enables the pace to be properly maintained, there is more he could have done in this recounting. It is after all a history book, and thus deserves more than just a retelling of the races.
Other than a forward by Redman, we do not hear from any of the participants, perspectives of those who were involved and witnessed the action, the tales that can now be told 40-odd years later, nor the historic role and cause and effect the series played on racing before and after.
Also missing is one of my pet peeves on some current racing history books -- the lack of complete, thorough results and stats. You simply cannot produce a history book, especially one on a deceased series, without the proper statistical coverage. Lawson does provide the top ten championship series finishers for each year. That's not enough. There needs to be complete standings, race results, statistical summaries, and records. Like baseball fans, racing fans demand this sort of treatment to their sport.
The book concludes with a few chapters devoted to the "rebirth" of F5000 racing in Europe through vintage events. Though, I personally would never relate the modern day going ons to the "true" series in the 70s, it is nice to see F5000 having this sort of "comeback" for those who were not old enough to enjoy the original. And, Lawson does not devote a large portion of the book to these newer years, so for those who do want to read about it, no harm done.
If you want a fairly detailed account with good writing and plenty of photos of one of the most exciting open wheel classes to ever be devised, on the European front, Formula 5000 Motor Racing - Back Then ... And Back Now will fill that need. However, don't be surprised when you're done if you are wanting for more.
Copyright © 2010 by . All Rights Reserved.