Book Review
by Russell Jaslow

Formula One The Champions: 70 Years of Legendary F1 Drivers


by Maurice Hamilton
photos by Bernard and Paul-Henri Cahier
White Lion Publishing
ISBN: 978-1-781-31946-8. List Price: $45.00.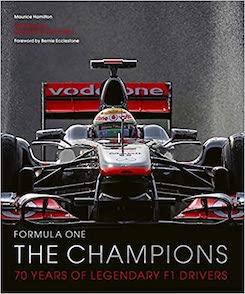 For the 70th anniversary of Formula One, Maurice Hamilton put together a book honoring and celebrating all 33 World Champions. He teamed up with The Cahier Archive for photos from father Bernard Cahier and son Paul-Henri Cahier.
This is your quintessential coffee table book -- crisp, precise yet inspiring.
World champions, in any endeavor, are unique individuals. In motor racing, they at times appear to be on a separate pedestal all together, due to the nature -- and danger -- of the sport.
There are certain common features which makes a world champion. This goes far beyond skill alone -- desire, goal oriented, sacrifice, complete focus, mental fortitude, courage, at times selfishness, and luck. All the world champions listed in this book had all those characteristics, no matter how many times they won.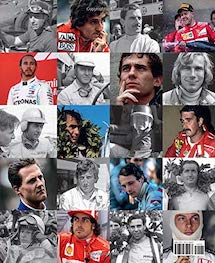 <!p class='regcaption'>
A collage of F1 champions
<!/P>
Yet, despite their similarities, put 33 people together, and you will have just as much diversity in their backgrounds, personalities, and desires as any other like-minded group of 33 individuals.
This is not an in depth look at Formula 1 world champions. Like I said, crisp and precise. However, Maurice Hamilton's writing skills combined with his vast knowledge of the sport still provides a sense of who these drivers were, why they have similar traits that got them where they were, while at the same time presenting their unique attributes.
You still get to learn tidbits about these drivers you may not have known before such as Nino Farina detested posing for photographs, Mike Hawthorn only won three career grands prix, Graham Hill never drove a car of any kind till he was 24-years-old, and Jochen Rindt's parents were killed in a WWII bombing raid when he was a child.
Whenever a book is replete with photos from The Cahier Archive, by default, it's a must have edition to your racing library. They are by far the highlights of this work. Maurice Hamilton's prose gives it an added bonus.
Copyright © 2020 by . All Rights Reserved.