Book Review
by Russell Jaslow

Driven by Desire: The Desiré Wilson Story

by Alan Wilson
(In association with Andrew Marriott)
Veloce Publishing
ISBN: 978-1-84584-389-2. List Price: $49.95.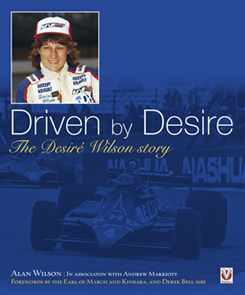 If someone asked me who I consider to be the greatest woman driver in auto racing, I would state without hesitation, Michelle Mouton. If someone asked who is the greatest woman road racing driver, I would most likely mention Desiré Wilson. Or, at the very least, put her on a very short list.
Books have been written about women drivers in general, but few are dedicated to a particular female racer, and even less done in a serious manner. The Desiré Wilson story is told in depth by her husband, renowned track designer, Alan Wilson, with a nicely done play on words title, Driven by Desire.
You won't get any better of an inside scoop on Desiré's life since they married very early in her career (well, adult racing career, as Desiré began racing micro-midgets at the age of five). Alan was a driver as well, but gave up his career when it became quite apparent his wife had a better shot at a professional racing career than he. And what a shot she had.
It is this inside perspective that makes the book. Sure, it's written by the husband of the subject matter, so biases will be introduced. However, it is no different than biases introduced when a mechanic writes about his life in the pits, or a team owner writes about his experiences, or even the driver themselves writes an autobiography. There will be a slant to it as any book not written by a proper historian will have. Those opinions add a different take to an historical account, as long as the reader realizes they are going to be one side of the story.
Desiré's racing life is recounted in basically a chronological order. Though, Alan Wilson also keeps the chapters to the same subject, so occasionally an event which happened at the same time will not be mentioned until a different chapter. Wilson pulls no punches in his praise and criticism of those who helped or hindered Desiré's career. He also is very careful in acknowledging that Desiré's gender was both a help as well as a hindrance to her career.
His analysis near the end of why women drivers are at a disadvantage in career development is quite fascinating, and it is not what you think. It is something no one has probably thought about, and only someone who has lived through a woman's driving career as well as being heavily involved behind the scenes in the sport could possibly observe. When I read this analysis, I immediately thought of Katherine Legge.
This is a well written book (thanks to Andrew Marriott playing a key editor role which Wilson fully acknowledges), a page turner as they say, which does not get bogged down in the minutia which racing people can easily fall prey to. It mixes nicely the many characteristics of racing -- the driving, the technology, the politics (at Le Mans that's Politics with a capital "P"), the sponsorship, the money (or lack thereof), the tracks, the travel, the exultations, and the tragedies.
Most of all, it centers on the human element of the sport, and this is what makes the book work so well. The chapter "Tickled pink at Le Mans" is worth the price of the book alone. It will have you howl in laughter over the complete incompetence, political shenanigans, and subterfuge a racing effort can quickly devolve into. You laugh, because the only other choice is to cry.
Desiré's career could be summarized as a "what if..." career. However, there are no regrets from the Wilson's. In the end, they lived the life most of us dream about, with many successes while making some mistakes along the way. Most importantly, Alan Wilson states emphatically, Desiré was a race car driver. Not a woman race car driver, but a race car driver. A very successful race car driver.
He's right. And that is the greatest compliment to Desiré's career. Now, you have the chance to learn about it from an insider.
Copyright © 2012 by . All Rights Reserved.